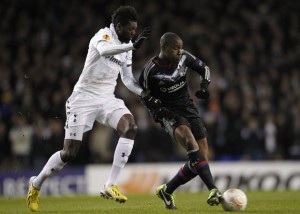 Arrived wednesday from Lyon to play in the second leg of the Europa League, the Spurs should evolve with the Cameroonian Benoit Assou Ekotto in the left lane and tip the Togolese Emmanuel Adebayor Sheyi.
Remi Garde will build on the promising Cameroonian Samuel Umtiti and also Bafetimbi Gomis and Gueïda Fofana to turn the tide.
Emmanuel Adebayor Sheyi, despite his two small goals with Tottenham since the beginning of the season will hold in the second leg of the Europa League. Down speed, the former Monaco player will be a threat to the opponents.
Hawks captain who loves swallowing spaces will definitely talk to his speed. Manu to his friends, must be skillful on Thursday for his first goal in the competition this season.
Tenacious and always equal to himself, Benoit Assou-Ekotto keep the left lane of the Spurs. The Cameroonian side buttons will bring its technology and experience acquired to keep the score in the first leg (2-1 to Tottenham). Its excesses and its centers can find Emmanuel Adebayor and Gareth Bale. This is the player in the form of Andre Villas-Boas.
Author of a good performance in the first leg, Olympique Lyon has turn the tide on Thursday for the return leg. Remi Garde can count on the young and promising Umtiti Samuel.
The left side of the OL, Samuel Umtiti will attract attention this Thursday at the meeting of the 8th final return of the Europa League. Cameroon is the only scorer of his training on British soil after a sumptuous volley who cleaned the window of Bradley. While in the first period, he suffered against Lennon, his offensive contribution will still be crucial for the Gones.
The Franco-Senegalese Bafetimbi Gomis shows more dangerous in the league and even in the Europa League. His speed and quickness are assets for his training to beat Tottenham remaining 7 matches without defeat.
Always used as a wildcard, Gueïda Fofana has a significant playing time, despite fierce competition in the formation of Lyon. His goal against Bordeaux, during the 25th day of the French league puts him in a good position to compete in this event.
OL has the heart to return to the situation of two goals conceded in one go.