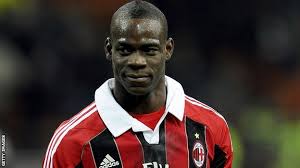 After the racial abuse of Ghanaian striker Kevin Prince boating, controversial footballer Balotelli has become the next on the list on the racism centre stage after Inter Milan fans reportedly rained abuses at Mario Balotelli the AC Milan player.
According to reports from Gazzetta dello sport, Balotelli pressed his finger on his lips biding his distracters for silence but Inter fans continued to boo at him waving inflatable bananas as this was his first time facing his former club which had 1 – 1 draw play.
FIFA had described such incidents as "offensive, denigratory and discriminatory». In the case of Kevin – Prince Boateng, he was seen walking off the pitch by the racist behavior by fans
Serie A bosses would have to meet to discuss on the appropriate punishment for Inter following the incident. The club might face a fine of at least €15,000 (£12,300) if found guilty of the incident and could be the second fine after that of Chievo.
Early February, younger brother of AC Milan President Paolo Berlusconi was filmed calling Mario Balotelli "negretta della famiglia" which is translated in the English language as, "the family's little n****r".
In a statement, the BFU said: "BFU's delegates will order the (stadium) speaker to warn the crowd.
"Cases of racism and discrimination can lead to termination of the game and fines of 37,500 levs (£17,000)."
Read also:
http://en.africatopsports.com/2013/02/23/balotelli-showed-interest-in-barcelona-sandro/
http://en.africatopsports.com/2013/01/05/serie-a-kevin-prince-boateng-leaves-pitch-after-suffering-racist-abuse/
http://en.africatopsports.com/2013/01/05/serie-a-boateng-gets-support-for-racism-stance/
http://en.africatopsports.com/2013/01/07/sepp-blatter-its-wrong-for-ac-milan-to-walk-off-in-face-of-racism/
http://en.africatopsports.com/2013/02/07/serie-a-ac-milans-little-n-is-balotelli-berlusconi/
http://en.africatopsports.com/2013/02/21/champions-league-africans-deliver-milan/