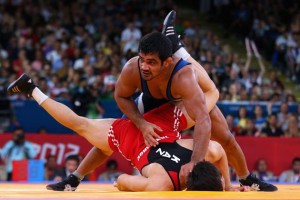 Olympic wrestling makes strange bedfellows. This week, the governors of 34 states took the highly unusual step of sending a letter to International Olympic Committee President Jacques Rogge asking that wrestling be returned to the Olympic program for the 2020 Games.
The governors might not have realized it, but by officially supporting one sport, they effectively gave the back of their hand to two other popular U.S. sports, the combined American bid of softball and baseball.
Later this year only one sport is being selected which is the Olympics, if wrestling makes it back to the Games, as the governors suggested in their letter, then softball and baseball are out.
Oklahoma's Mary Fallin signed the letter in support of wrestling even as her state is known as the mecca of softball. According to USA Softball, the College World Series in Oklahoma City brings in $17.5 million a year and the National Softball Hall of Fame, also in Oklahoma City, $13 million annually.
"The governor supports lots of sports and believes they are worthy of being included in the Olympics," said her communications director, Alex Weintz, in an e-mail. "The fact that only a certain number of sports can be included, or that only one sport can be reinstated, is the result of rules and a process that Governor Fallin is not involved with."
"The governors either should be neutral or consider both sports," said International Softball Federation president Don Porter, who has been working for more than seven years to have softball reinstated in the Olympic program. "Softball and baseball have ten times the participants that wrestling has in the U.S. Where were they the last time when women's softball was dropped from the Olympic program?"
Read also:
http://en.africatopsports.com/2013/03/05/wrestlingniger-alio-salaou-new-king-arenas/