Ronaldinho was born into a family of football addicts. His father, Joao da Silva Moreira who played for an amateur club made ends meet by by working as a car park attendant at Gremio Football Club. He Born as Ronaldo de Assis Moreira on March 21, 1980 in Porto Alegre, Brazil.
Cmmonly known as Ronaldinho or Ronaldinho Gaúcho, is a Brazilian footballer who plays for Brazilian club Atlético Mineiro and for the Brazilian national team as an attacking midfielder or forward. He is a two-time winner of the FIFA World Player of the Year, an award which he received in 2004 and 2005.
"Ronaldinho", the diminutive and term of endearment for "Ronaldo", is accompanied in Brazilian usage by the nickname "Gaúcho", in order to distinguish him from fellow footballer and countryman Ronaldo, who was known as "Ronaldinho" in Brazil beforehand. Ronaldo simply went by his first name upon his move to Europe, thereby allowing Ronaldinho to drop the "Gaúcho" and go by the name Ronaldinho abroad.
Prior to his move to Flamengo, he played for Paris Saint-Germain, FC Barcelona and Milan. With the Spanish club, he won his first Champions League in 2006 and the Ballon d'Or in 2005. He became a Spanish citizen in January 2007. He was also named in the FIFA 100, a list of the greatest footballers compiled by fellow countryman Pelé, and in the FIFPro World XI consecutively from 2004–2007.
International career
Ronaldinho takes a corner kick during the 2006 World Cup
Ronaldinho is one of few Brazilian players to have played at every international age level. He was part of the first Brazilian team to win the FIFA U-17 World Championship in 1997, in which his first goal was a penalty against Austria in the first group match, which Brazil won 7–0. Ronaldinho finished with two goals and was awarded the Bronze Ball award as Brazil scored a total of twenty-one goals while only conceding two.
1999 was a busy year for Ronaldinho in terms of international play. First he appeared in the South American Youth Championship, where he scored three goals and helped the U20s to reach the third place. Then he took part in that year's FIFA World Youth Championship, scoring his first goal in Brazil's last group match. In the round of sixteen, he scored two first-half goals in a 4–0 win over Croatia, and finished with three goals as Brazil were eliminated by Uruguay in the quarterfinals. On 26 June, three days before the start of the 1999 Copa América, he earned his first cap for Brazil in a 3–0 win over Latvia, and he scored one goal during Brazil's victorious Copa América campaign. One week after the conclusion of the Copa América, he was called up for the 1999 Confederations Cup, in which he scored in every match except the final, including a hat-trick in an 8–2 semifinal rout of Saudi Arabia. Ronaldinho did not score in the final, which Brazil lost 4–3 to Mexico. He won the Golden Ball award for the best player in tournament as well as the Golden Boot award for the tournament top-scorer.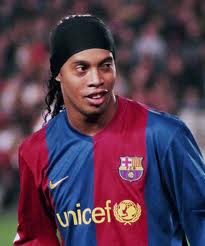 In 2000, Ronaldinho participated in Summer Olympics in Sydney, Australia with Brazil U-23 team. Earlier that year, Ronaldinho led Brazil to win the Pre-Olympic Tournament, scoring nine goals in seven matches. However in the Olympics, Brazil was eliminated in the quarterfinal by Cameroon, who later won the gold medal. Ronaldinho appeared four times and scored only one goal, which came in the quarterfinal defeat by Cameroon.
Ronaldinho participated in his first World Cup in 2002, as part of a formidable offensive unit with Ronaldo and Rivaldo, who were also on the 1999 Copa America winning squad. He appeared in five matches and scored two goals, as well as contributing several important assists. His first goal came in the group stage match against China, which Brazil won 4–0. The second goal was a match-winning goal in the quarterfinal against England on 21 June. In the 50th minute, Ronaldinho took a free-kick from 35 metres, beating England goalkeeper David Seaman to give Brazil a 2–1 lead. However, seven minutes later, he was sent-off for a foul on England defender Danni Mills. He was suspended for the semifinal, but returned to Brazil's starting lineup for the 2–0 victory over Germany in the final as Brazil won the World up for the fifth time.
Ronaldinho against Switzerland's Xavier Margairaz.
Ronaldinho's next international tournament was 2003 Confederations Cup. However, Ronaldinho did not manage to score any goals during the tournament as Brazil performed poorly and was eliminated in the group stage. The following year, he was left out from Brazil's 2004 Copa América squad, as coach Carlos Alberto Parreira decided to rest his stars and used a largely reserve squad.
He was the capitain of Brazil to its second Confederations Cup title in 2005, and was named Man of the Match in a 4–1 victory over archrivals Argentina in the final on 29 June. Ronaldinho scored three goals in the tournament and is tied with Cuauhtémoc Blanco as the tournament's all-time scorer with nine goals.
Ronaldinho started in all five of Brazil's 2006 World Cup finals matches as part of a much-publicized "magic quartet" of offensive players, alongside Adriano, Ronaldo, and Kaka. However, the foursome finished with only five goals as Brazil disappointed as a whole in the tournament. Ronaldinho turned in his worst collective performance in his international career, going scoreless with only one assist, which was for Gilberto's goal in a 4–1 group stage victory over Japan. He was a non-factor as Brazil was eliminated by France 1–0 in the quarter-finals, in which Brazil had only one shot on goal for the entire match. The team was harshly criticized by Brazilian fans and media following their return home. On 3 July, two days after Brazil's elimination, vandals immolated and destroyed a 7.5-meter (23-foot) tall fiberglass and resin statue of Ronaldinho in Chapéco. The statue had been erected in 2004 to celebrate his first FIFA World Player of the Year award. That same day, Ronaldinho, joined by Adriano, returned to Barcelona and held a party at his home, which was continued into the early morning hours at a nightclub. This aggravated the hard feelings of many Brazilian fans, who believed that they were betrayed by the lack of effort from the squad.
On 24 March 2007, he scored twice in a 4–0 win over Chile, which marked his first goal since the 2005 Confederations Cup final and thus ended a scoreless streak that lasted nearly two years. He was not called up for the 2007 Copa América after asking to be excused from the tournament due to tiredness. On 18 October, he was controversially benched by Barcelona after he was late returning to Spain following Brazil's 5–0 friendly win over Ecuador. He and several Brazil players celebrated the win by partying through the night at a posh Rio de Janeiro nightclub. Ronaldinho left at 11 am the next morning, allegedly in the trunk of a car in order to avoid the media.
On 7 July 2008, Ronaldinho was named to Brazil's 2008 Summer Olympics squad as one of the over-age players. Barcelona initially blocked the move because of his then-upcoming Champions League commitments with the club, but the decision was later nullified following Ronaldinho's transfer to Milan, who in turn permitted him to make the trip to Beijing. Ronaldinho scored his only two goals in a 5–0 victory over New Zealand before Brazil were beaten by Argentina in the semifinal. Brazil finished with the bronze medal after defeating  Belgium 3–0 in the bronze medal match.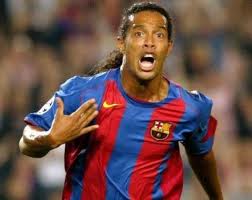 Despite having returned to good form and being named as a member of the 30-man provisional squad that was submitted to FIFA on 11 May 2010, he was not named in Coach Dunga's final squad of 23 for the Brazilian squad in South Africa for the 2010 World Cup despite his deep desire to participate in the competition. Critics have claimed that the exclusion of players such as Ronaldinho, Alexandre Pato, Adriano and Ronaldo signals a move away from the classic Brazilian attacking"Joga Bonito" style of play.
In September 2011 he made his return to the national team under coach Mano Menezes in a friendly against Ghana, playing the full 90 minutes in a 1–0 win for Brazil. He then had solid performances in back to back friendlies against Argentina in the same month. In October he made great performance against Mexico in a friendly scoring spectacular free kick to equalize after Dani Aves got sent off. Brazil went on to win the match with a goal from Marcelo.
Style of play
Ronaldinho has been described as being "skilful by nature, his tricks are unparalleled and he is wonderful with the ball at his feet. One of the coolest players in pressure situations" and a "fast, brash, skilful, tricky, an uninhibited playmaker" who provides "a mix of goals, assists, skills and a large repertoire of crafty moves." Former Portugal midfielder, Rui Costa, has said of him: "There are not many players who can offer goalscoring passes like he can. He is just marvellous. He is a rare case of an assist man who can provide the ball from anywhere."
Honours
Club
Grêmio
Paris Saint-Germain
Barcelona
AC Milan
Flamengo
International
Brazil
Brazil U23
Brazil U17
Read also:
http://en.africatopsports.com/2013/02/19/brazil-ronnie-cheating-video/
http://en.africatopsports.com/2013/02/05/brazil-ronaldinho-is-back-home-with-the-auriverdes/
Here are videos:
http://www.youtube.com/watch?v=k80GuGsUydA
http://www.youtube.com/watch?v=979W1QB1H2Q