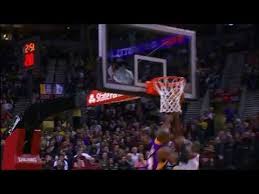 Nothing to say…KB the superman ? Will Barton attempted an huge crime: stamp Kobe Bryant
. But the rookie of Portland, perhaps intimidated, could see that Kobe could turn into Josh Smith and counter attempts dunks.
he can decide to do what he wants when he wants…
It's clean, and it is undoubtedly one of the finest cons of the season.
Here is the video:
http://www.youtube.com/watch?v=7oTUXlTaixE&feature=player_embedded