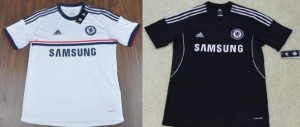 A disproportionate advertising campaign … All this for Chelsea and Adidas make double their business of disclosure of the jerseys for next season. The jersey away and third 2013-2014 Version have leaked on the web.
Whatever, if you are fans of Chelsea, so you should enjoy this video …
Some Chelsea players participated in the development of their next ad for Adidas jersey. John Terry, Juan Mata, David Luiz or Fernando Torres, are included in the game! A very special game, because for the needs of this spot, they had to do body painting, and covering themselves in blue.
Watch the video here:
[youtube]http://youtu.be/NGJOhIDkfMg[/youtube]