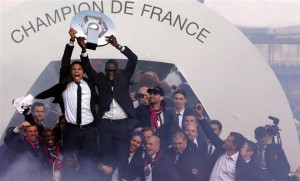 After 19 years of waiting, PSG was champion of France following its victory over Lyon.
But the celebration of the title on Monday turned into a nightmare with a riot and other slippages of players and inappropriate output of elected politicians.
This situation undermines the image of the club which "works tirelessly on the field for more than 12 years to allow children to climb through sport by providing them educational values of solidarity and respect for differences" it is said in a statement released Wednesday.
This episode is a blow to the various festivities planned to return to summit of PSG in the French football.
Also, the capital club announced in this press release the postponement of the gala dinner scheduled tonight at the City Hall "Following the events of Monday in Paris, Mr. Al-Khelaifi decided to postpone this event to a later date".