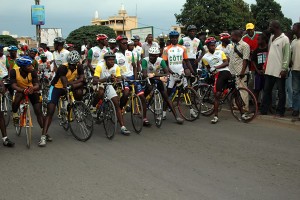 One hundred athletes are still expected on May 24 in Niamey for the start of the fourth Grand Prix de l' Impossible. A cycling race near 515 km in a single step and requires impressive physical abilities.
Asked on RFI (French International Radio), the promoter of the event, Francis Ducreux assured provisions taken to prevent health problems for cyclists. "This year, we required the riders a specific medical certificate. For this test requires physical outsized conditions of which we are aware", he has said.
If during the first two editions, the competition took place in Burkina Faso, since last year, the Grand Prix de l'Impossible has crossed borders and is going to kick off in Niger for nearly 17h bike race.
The Burkinabe Hamidou Yaméogo is the double title holder of the trophy.