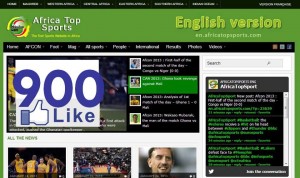 Congratulations to Ali Idrissa , the 900th fan to like our page Africa Top Sports ENG!
Bravo, let's go and make it to 1000 very soon!!!
en.africatopsports.com, a complete and dynamic bilingual sports website, very proactive, with the team based in Lomé (Togo).
We publish more than 40 articles every day, dozens of videos on Africatopsports TV and a real community via the social networks.
Besides highlighting football, the number one sport in Africa, our goal is to promote young talents, female athletes, clubs and African local competitions.
The whole team of Africatopsports welcomes the lovely Ali Idrissa from Atakpame (Togo) in our communauty.
A surprise awaits the 1000th friend.
We rely on you to make it to 1000 and more very soon, so invite massively your friends to like the page Africa Top Sports ENG and stay tuned on en.africatopsports.com.
For more information join us on en.africatopsports.com!!!