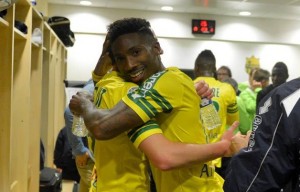 No rest for Serge Gakpé!
The Togolese international, large craftsman to the rise of his club in League 1 will have one month to leave the Canaries on schedule for the resumption of training sessions scheduled for June 27.
But during this time, the Togolese summoned to the Hawks will play the confrontations in the qualifiers of the World Cup Brazil 2014 on 9 and 16 June against Cameroon and Libya.
Before that, he could take part in a friendly match between Togo and Equatorial Guinea.
During the remaining 10 days, Serge Gakpé will try to discuss his extension with Nantes or a new contract to another club.