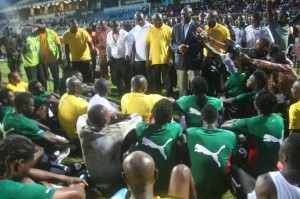 Ghana Most Powerful King Nana Otumfuo Osei Tutu II has demanded the Black Stars to teach the Zambians football lesson on the pitch come 6th september. Otumfuo paid a visit to the
Black Stars when they arived in Kumasi to welcome them to the Garden City of Ghana.
He said, the Zambian coach was once assistant coach to the Black Stars and he can nowhere say  his Zambian side is better than the Ghana Black Stars he(Renard) know.
Otumfuo said, he believes beating Zambia will send Renard packing from the Zambian team. All we need from the team is understanding, affection and purposefulness. No player is better than the other. "Those who will be on the field should know that it's a body of a team. You must appreciate that the coach has picked you because he has confidence that you can deliver for Ghana. Commit youself, be brothers, no egos but with a common purpose to qualify to the World Cup. All I want to hear my sons is that you have won by 4-0," Otumfuor Osei Tutu 11 said amidst a rapturous applause.