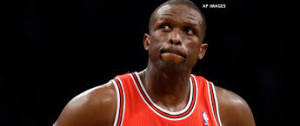 Luol Deng could make the happiness of a new franchise next summer. The negotiations with the staff of the Chicago Bulls last June for the contract extension of the Sudanese of origin have not yet succeeded. "We were optimistic," said a relative of the player to CSN Chicago. "Our goal was to get a contract extension this summer. If it is not their will, no problem. "Relays BasketUSA.
The sticking point would come from the salary increase of Deng. With already the large contracts of Derrick Rose, Carlos Boozer and Joakim Noah, the Bulls want to be within the scope of the "luxury tax" (tax that must pay every franchise exceeding the imposed salary threshold by the NBA), to the risk to let the native of Wau, one of the pillars of the system of Tom Thibodeau.
Bound for another season with the Bulls the English international winger, absent from the Eurobasket (16.5 points 6.3 rebounds and 3 assists of average) could become a free agent next summer and have the opportunity to engage with another franchise.