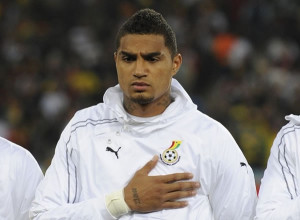 With barely one week to play the Pharaohs of Egypt in the first leg of the  World cup qualify, Schalke 04 have ruled Ghanaian international Kevin Prince Boateng from the Black Stars squad due to a supposed injury but to most ghanaians, this is another trick by Kevin and his club Schalke 04 to deceive Ghanaians.
After playing for the Black Stars in the 2010 World cup, Kevin Prince Boateng took a break from the Black Stars with the excuse that he want to focus on his club because he cant serve the national team and his club at the same time. The Black Stars played all the 2014 World cup qualifier without the Schalke 04 midfeilder until he later rescind from his decision. Kevin was called for the last group game against Zambia but couldnt play because of a supposed injury but started training 3 days after the Ghana-Zambia game.
Kevin later said in an interview that he didn't play in the Ghana-Zambia game because the pitch was hard and so was protecting his troublesome left knee. Kevin has now been called by the Black Stars coach Kwesi Appiah for the crucial first leg match against Egypt in Kumasi but Schalke sports director Horst Heldt says he fears Boateng will not be available for Ghana when they take on Egypt in nine days' time in Kumasi.
To some Ghanaians, this is not a surprised news because they saw it coming. Kevin just dont want to play in Kumasi stadium because he believe the pitch is not good for his knees.maybe he is waiting to play only one match for Ghana so that he can earn a call to the 2014 World cup in Brazil.
The 26-year-old was forced off during their 4-1 win over Augsburg in the Bundesliga on saturday where he scored his third goal in five Bundesliga appearance for Schalke since completing his shock move from AC Milan at the end of August.  The full extent of injury is not known however the decision to substitute him in the match has sparked fears for Ghana who are seeking an emphatic win in the first-leg to make the return match a formality. But if Kevin is playing a trick then let someone tell him that he is deceiving himself.