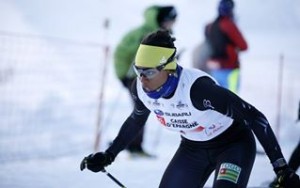 Things are starting to hurt a little Amivi Mathilde Petitjean, flagship of the Togolese delegation at the Olympic Winter Games currently taking place in Sochi in Russia. While she hoped to start the KO sprint Tuesday she will no longer get aligned. The Franco-Togolese young athlete announced the news on her Facebook account.
"Hi everyone. I will not be starting from the KO sprint tomorrow as I hoped, "said Mathilde before giving reason. "I have not validated the points needed to participate in this race," she added.
Undeterred, the athlete who considers Togo as her limb, sets another appointment to her fans next Thursday.
"It does not matter. I give you an appointment for those who wish Thursday, February 13th at 11am (France time) in the 10 km with the world's best crew which looks very hard," wrote Mathilde Petitjean Amivi.
Now we only hope that the young athlete wins a medal for Togo. That would be a first for this small country in West Africa where most of the inhabitants have never seen snow.