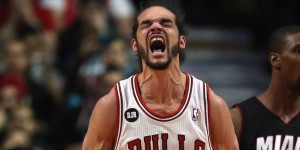 Despite exceptional performance of a player in position 5, Joakim Noah was not elected Player of the Month in the East in February as the trophy was awarded to monstrous LeBron James. Jooks that is on a different planet with the Chicago Bulls did not win the title of Player of the Week, won by Carmelo Anthony (and James Harden, the first player in the history of Rockets to be honored two weeks in a row in the West).
Considered by the leader of the San Antonio Spurs, Tony Parker, as "the best pivot in the NBA right now" All Star interior of Chicago is a real fighter on the floor. And he communicated his desire to win to his entire group.
It is for this reason that the League has identified him as the strongest NBA player. The league paid tribute to the player who was able to make his franchise forget the absence of Derrick Rose (injured) and Luol Deng (currently in Cleveland).
[youtube]http://www.youtube.com/watch?v=M9ZbfJFDR38[/youtube]