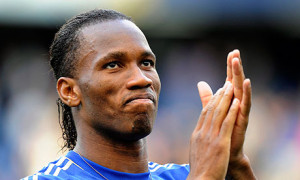 Africa Top Sports announced yesterday, Didier Drogba spent his last hours with Turkish club Galatasaray. And already rumors swell about his future. The British press suggests a possible return to Chelsea.
Looking for a new center-forward for the next season, Chelsea could then welcome back the Ivorian striker as revealed by the English press. Indeed, Jose Mourinho would have jumped at the chance to probe his former striker.
Drogba wore the Londoners' jersey for eight years (157 goals in 341 matches) and he remains an idol for the Stamford Bridge lovers as he offered them the Champions League club in 2012.
According to analysts, the objective of the eventual return of the Ivorian striker is simple: to integrate him into the staff of the club after the single season he will have play with the Blues.