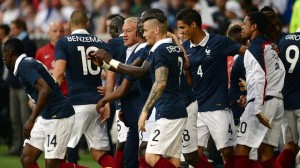 Brilliant night for Didier Deschamps and France team. In farewell match, the Blues have regaled the Pierre Mauroy Stadium of Lille inflicting a severe 8-0 to Jamaica. An opponent certainly very innocent but allows the foals of Didier Deschamps to build confidence.
The man of the Match is undoubtedly Karim Benzema, who scored twice and issued two assists. The Real Madrid striker associated with Olivier Giroud feasted touching a lot of balls. Blaise Matuidi has also doubled just like Antoine Griezmann off the bench.
Olivier Giroud scored before giving up, as Yohan Cabaye.
[youtube]https://www.youtube.com/watch?v=62BhFOSK8CU[/youtube]