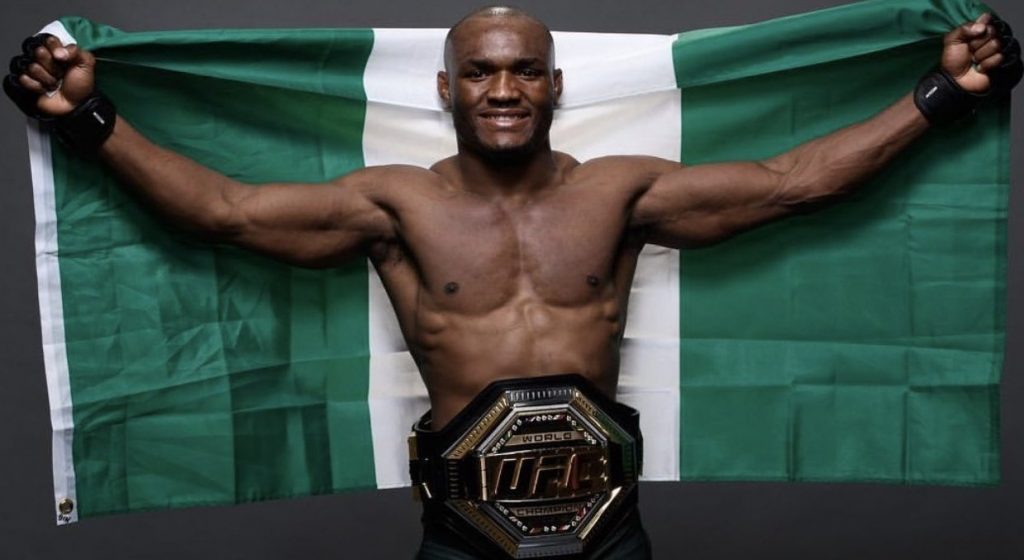 Nigerian Mixed Martial Art (MMA) sensation and UFC Welterweight champion Kamaru Usman has retained his title after a unanimous decision against Jorge Masvidal at UFC 251 Fight Island in Abu Dhabi on Sunday July 12.
Usman defeated Masvidal 50-45, 50-45, 49-46 as ruled by the judges in a fierce bout  that ended five rounds.
The decision for Kamaru to fight Masdival came in a short notice as his mandatory contender Gilbert Burns withdrew after testing positive to coronavirus.
Watch Kamaru Entrance To the ring with Burna Boy Song.
Masdival was then announced as the next opponent for to replace Burns by UFC president Dana White.
Kamaru who have always wanted a fight against Masvidal, showed why he is the champion in the welterweight category as he extended his dominance once more.
The 33-year-old Nigerian champion came to Abu Dhabi after a fifth-round TKO over Colby Covington at UFC 245 in December 2019. 
It was the latest UFC title fight finish ever and Usman's second title defense.
With the victory, Usman have now recorded 27 wins and just one defeat.
Masvidal have now suffered 14 defeats with 35 wins in his career.
Africa Top Sports monitored the fight and after the win, Usman spoke with UFC play-by-play announcer Jon Anik.
Watch Masvidal entrance to the ring
He paid respect to Masvidal who he described as the biggest and baddest fighter.
He said, "Masvidal is the biggest, baddest dude out there right now. 
"I had to switch gears and prepare for him on a week's notice. … I had to make a mental shift. I trained for Gilbert. 
"I had a completely different game plan," 

"I'm just at a level better. I have more tools in the toolbox. And when I need to pull them out, I can pull them out and use them," Usman said afer the win.
However, Masvidal said he will trigger a rematch.