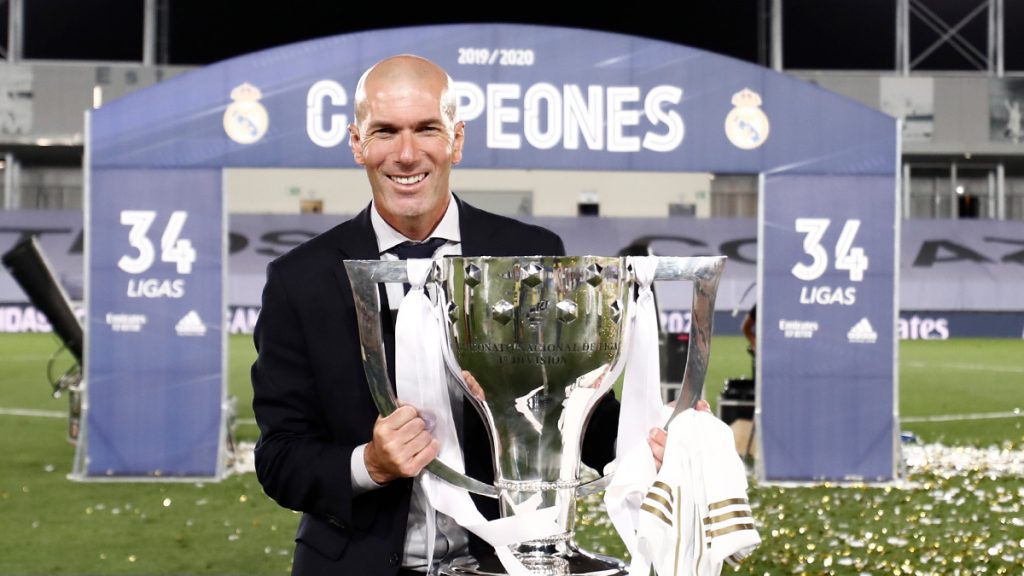 Zinedine Zidane has rued the inability of Real Madrid supporters to be inside the Stadium to celebrate their 34th Spanish League title due to the coronavirus.
The Los Blancos defeated Villarreal 2-1 at the Alfredo Di Stephano to become the new Spanish League champions after three years hiatus.
Zidane returned to the club for his second spell as  manager and delivered the league title for the club in a league that could have been cancelled due to coronavirus.
The former Real Madrid midfielder who also helped the club to an unprecedented three consecutive UEFA Champions League title spoke after their victory on Thursday.
"First, to all the fans because in the end they couldn't be here out of necessity but they're there in spirit. 
"They've always been with us at the most difficult moments. 
"I think about them, but first and foremost to the squad, those who have worked around the team because there are an awful lot of us here and it's been a fantastic effort from everyone.
 "But when we achieve something as big as winning the league, it's because we believe in what we're doing".

Reflecting on helping the title after three years, the former Real Madrid player praised the effort of his players. 
"It's huge. It's a constant battle."There are 38 games, and only at the end can you achieve something great like today. 
"I'm extremely thankful to the players, first and foremost, because they're the ones fighting out on the pitch. 
"I have my role and I'm with them, but it's a team effort. 
"This is a huge achievement, it's incredibly emotional. 
"It's very tough to win the Spanish league, very tough indeed".
On how other clubs especially Barcelona who are now the former champions may feel, he said;

"Everyone is entitled to their opinion, especially when you're at Real Madrid, because that's the way it is. 
"That doesn't make me any more or less happy.
"When there is criticism, all I can do is try and do my job. 
"I'm passionate and I have the good fortune to be at this great club with these players, who are ultimately the ones who have fought to achieve a beautiful thing following the confinement. 
"It's 10 wins from 10 games, it's tremendous".
"I feel extremely happy, for all I have. As you said, the first LaLiga was wonderful, but this one has a special taste to it after two months at home. 
"Then we came back and we prepared in a different fashion, winning a league title which, I think, is always the hardest. 
"We did it, it's everyone's success because this is a team and all the sacrifice has paid off".

He also discussed his relationship with Sergio Ramos and his leadership prowess.

"I have a good relationship with the players. 
"As it should be, every day and whatever happens, even at the most difficult times. 
"We've had tough times even though we've won a lot, but the relationship has always been good with everyone. 
"They're extremely professional and respectful, but what I'm most concerned with is the relationships they have with each other. 
"You highlight Sergio Ramos. He is our leader, he drives the team on. 
"We all bring something different to the team but he's our captain. 
"We have 4 captains with Marcelo, Varane and Benzema, but it's true that Sergio is our leader. 
"I think every single madridista feels represented by Sergio in every sense".
He also revealed the toughest moment of the league to be when they lost to Real Betis before the league was suspended due to the COVID-19.
"The toughest thing was the game before the confinement when we lost against Betis, because after having beaten Barcelona at home, that was a real setback. 
"We then were all stuck at home for two months and when we came back it was something else. 
"We've come back with renewed energy, we wanted to do things properly again and prepare, train well and strongly and we've managed 10 wins in the 10 games.
"Ultimately I'm more relaxed after what we've achieved today and the Betis game is no longer on my mind".