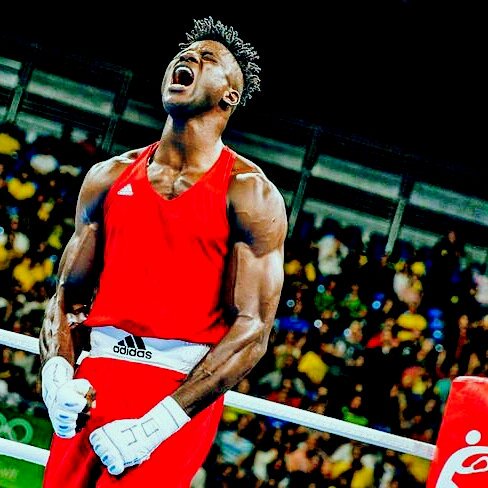 Nigeria heavyweight boxing sensation Efe Ajagba has signed a long term contract with Top Rank Inc as part of efforts to advance his career.
Top Rank in a tweet on it's official Twitter account confirmed the promotional deal of Ajagba.
Ajagba also confirmed in the announcement that he has changed trainers, from Ronnie Shields to Kay Koroma.
Also Janes Prince and has hired prominent manager James Prince to represent him.
He said; "I made this decision to become a better boxer and to advance my career.
"That's why I signed with James Prince and Top Rank.
"When I return to the ring soon, you will see a new Efe Ajagba.
"Kay Koroma and I are working on my head movement and defense, as I seek to become a more well-rounded fighter."
Ajagba was previously promoted by Richard Schaefer's Ringstat Sports and fought on Al Haymon's Premier Boxing Champions Cards.
Top Rank co-founder Bob Arum while welcoming Ajagba described him as as a rare heavyweight boxer.
"Efe Ajagba is one of the most gifted young heavyweights I've seen in quite some time.
"He has immense physical tools and a great work ethic.
"I have the utmost confidence that we're looking at a future heavyweight champion."
The 26-year-old Ajagba's power has made him a fan-friendly fighter over the past three years, but his defensive deficiencies have made him vulnerable at times.
Iago Kiladze dropped Ajagba in the third round of a fight FOX aired December 21 from Toyota Arena in Ontario, California.
Ajagba, who had floored Kiladze during the second round, got up, regained control of their fight and knocked Kiladze to the canvas again in the fifth round.
Kiladze's trainer threw in the towel late in the fifth round because the courageous Georgia native was taking a beating from the hard-hitting Ajagba.
Referee Thomas Taylor stopped their bout at 2:09 of the fifth round.
He holds the record for the fastest victory in boxing history when, in August 2018, Curtis Harper walked out of the ring one second after the opening bell sounded.
Ajagba stopped Romania's Razvan Cojanu in the ninth round of his last fight, March 7 at Barclays Center in Brooklyn.
Cojanu was knocked down during the eighth and ninth rounds before referee Ron Lipton ended their scheduled 10-rounder.
The 6-feet-6, 240-pound Ajagba (13-0, 11 KOs), a 2016 Olympian for Nigeria, will make his Top Rank debut on an upcoming card to be determined either on ESPN or ESPN+, the network's streaming service.
Many of Ajagba's bouts have been broadcast by FOX, FS1 and Showtime since he turned pro in July 2017.
Top Rank has promoted many world class fighters, including Muhammad Ali, Oscar De La Hoya, Roberto Durán, Joe Frazier, George Foreman, Marvin Hagler, Juan Manuel Marquez, Manny Pacquiao, Sugar Ray Leonard, Floyd Mayweather Jr., Erik Morales, Thomas Hearns.
The company has promoted such superfights as Hagler vs Leonard, Chavez vs De La Hoya, Holyfield vs Foreman, Foreman vs Moorer, Leonard vs Hearns, Hagler vs Hearns, Ali vs Frazier II and both Ali vs Spinks fights.