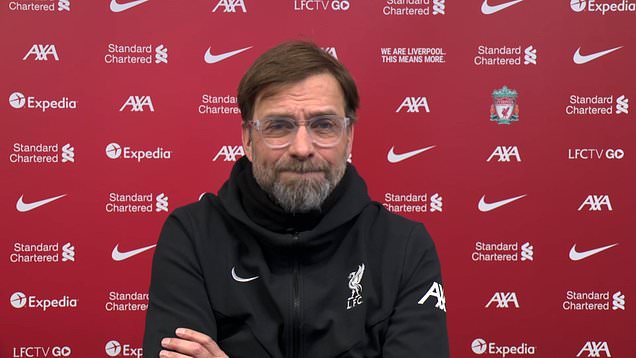 Liverpool manager Jurgen Klopp has faulted his players inability to utilise their chances as reasons for their Merseyside derby 2-0 loss to Everton.
Victory was secured for the visitors at the Anfield in the closing stages, with Gylfi Sigurdsson netting from the penalty spot.
Klopp while speaking in his post-match conference said the defeat was hurting.
"A lot, a lot. But, we conceded a completely unnecessary first goal and we should not forget that. 
"That's a big part of the game. There were two big parts. 
"You have to defend and we have to score. 
"In one situation we didn't defend well enough, so they could score, we made a mistake if you want. 
"And we didn't use their mistakes or we didn't use the things we created. And that's why we have the result.
On how the players are handling this period…
"We had some problems, you know them, and again if you saw an attitude problem today on the pitch, for example, then you have to write it. 
"If you didn't see that then you cannot write it. 
"We have to play but we have to force it as well, that's how it is. 
"In the decisive moments, we have to be calmer, that's how it is – like in the finishing situations and I don't mean now the headers from Sadio, which were really tricky with circumstances we had tonight, or the chance from Mo where it was super play with Shaq and Trent when Mo is alone and that's then really difficult because Pickford is in front of him, short distance. 
"But we had other situations where we had really finishing opportunities and we didn't finish the situations off. 
"So, the only way I know is to try it again and again and again, and I don't see any relation to the last three years. 
"That we were champions last year, that was already a month after we were champions, it didn't feel like it was a month ago – that has nothing to do with that. 
"The boys are still full of desire, I see that. But to change a football game, a result, to get the result you have to be decisive in the right moments defensively and offensively – and that's what we are lacking.
On Liverpool's defensive options and how difficult the recurring injuries are…
"We have options, of course, but how difficult it makes it… it makes it really difficult. 
"But for example, Nat was for sure not for one second our problem and even Hendo in the beginning of the game was really dominant, especially offensively. 
"So, yes, it is a massive blow losing Hendo again. Massive. 
"But Nat played a super game. Again, we meanwhile unfortunately got used to it that we have to change things and we just try to set up again for the next game.
" As long as we have 11 players we will do that."