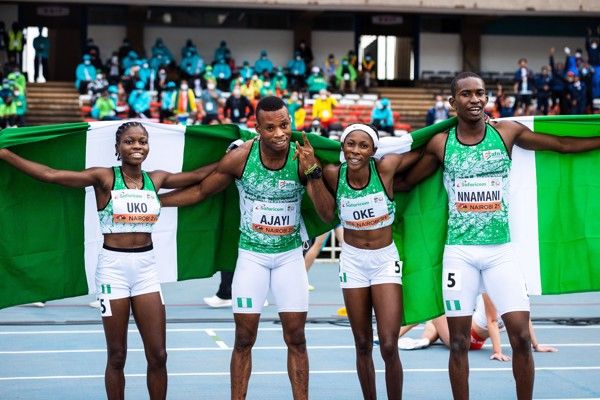 Nigeria's quartet of Johnson Nnamani, Imaobong Nse Uko, Opeyemi Oke and Bamidele Ajayi combined to clock 3:19.70 in the mixed 4x400m relay.
It was their second championship record in as many races, having run 3:21.66 earlier in the day.
The West African nation made history by becoming the first ever champions in the event which was making its debut at a World U20 Championships.
The medal is also Nigeria's first world U20 gold since 2008 when Folashade Abugan won the women's 400m title in Bydgoszcz.
Only one substitution was made from the Nigerian team that ran the semifinals as Ella Onojuvwevwo was replaced with Uko in the final.
She turned out to be the game-changer, moving from third place while running a brilliant second leg and handing the baton to Oke in first position.
Anchor leg Ajayi was briefly overshadowed by Poland's Patryk Grzegorzewicz but he switched gears on the home straight, going past his rival to cement the gold position for Nigeria.
Poland made two substitutions, with Michal Wrobel, Kornelia Lesiewicz and Alicja Kaczmarek teaming up with Grzegorzewicz as the team improved on their season's best from the morning, taking silver in 3:19.80.
India proved a formidable force, with the team of Barath Sridhar, Priya Habbathanahalli Mohan, Summy and Kapil storming to bronze ahead of Jamaica in a season's best of 3:20.60.
Jamaica had started out with much promise as Antoine Matthys Nortje took the lead in the first leg, but the team then faded, finishing in fourth.