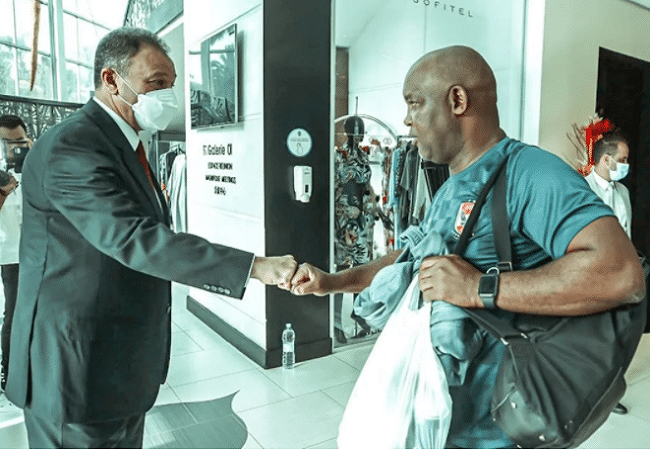 Pitso Mosimane's Al Ahly fail to defend the Egyptian Premier League title. The Red Devils collapsed to last minute draw against El Gouna on Tuesday evening. A result that forced them to surrender the crown to rivals Zamalek.
Read More : AL AHLY LOST EGYPTIAN PREMIER LEAGUE TITLE AFTER DISASTROUS GAME END AGAINST EL GOUNA
However, Al Ahly president Mohamed El Khatib has thrown his weight behind his team despite losing the title.
Khatib told his disappointed Al Ahly players that he's proud of them despite the latest setback, saying they should chin up and be proud of their achievements in recent months.
He mentioned their success in the CAF Champions League as well as coming third in the FIFA Club World Cup, saying he appreciates the team's effort.
"Raise your heads up. We are proud of each and everyone of you. You've won the CAF Champions League for two consecutive times. You've won the bronze medal of the FIFA Club Word Cup." Said Khatib.
"Our fans fully appreciate your efforts and will always support you no matter what happens. You've made them happy a lot. And that's your obligation towards them." He continued.
Furthermore, Khatib had a message of support for Pitso Mosimane, whom he said the entire Al Ahly family fully trusts him.
"We fully trust coach Pitso Mosimane, captain Sayed Abdelhafiz and our coaching, medical, administrative staff.
"You deserve to be honoured for what you did in the last period. And we are working on that." Added Khatib.