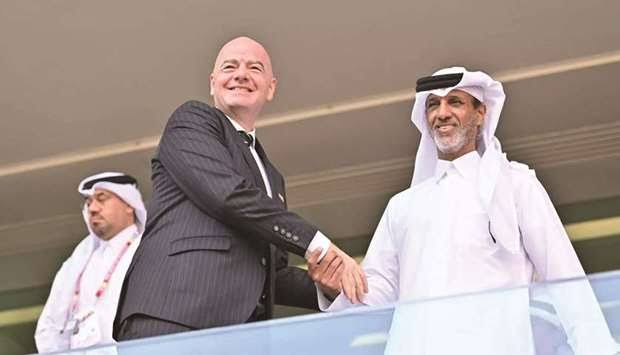 FIFA President Gianni Infantino has praised the effort of the workforce of the FIFA and Qatar for their objective of delivering a successful FIFA Arab Cup.
Infantino joined operational meetings on the first rest day at FIFA Arab Cup 202, as the competition provides a view to preparing the best FIFA World Cup of all in 2022.
Mr Infantino joined FIFA Secretary General Fatma Samoura, Chief Tournaments & Events Officer, Colin Smith and Nasser Al-Khater, Chief Executive Officer, FIFA World Cup Qatar 2022 in the daily meeting with the multi-departmental operational team, whi988ch focused on key points to take away from the opening matches for each of the 16 participating teams in the tournament, as well as areas to be optimised on the road to the final on Saturday 18 December.
"We are on a team working towards a unique FIFA World Cup and we are determined to make it the greatest ever", said the FIFA President.
"The collaboration is highly valued, and it was good to see at first hand the energy, skill and resolve that the team members have in their pursuit of continual improvements."
The FIFA President also took the opportunity to visit the Match Accreditation Centre and different teams operating in the Match Operations Centre.