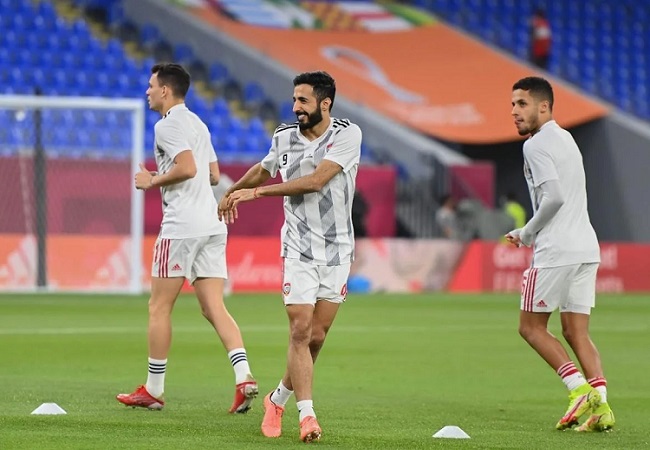 United Arab Emirates (UAE) met Mauritania in the 2021 Fifa Arab Cup in Qatar on Friday night. The two sides went into play with very different experiences from their Group B matchday 1 on Tuesday, with the UAE defeating Syria 2-1 and Mauritania losing 5-1 to Tunisia.
Also Read : FIFA ARAB CUP : BERT VAN MARWIJK WARNS UAE NOT TO UNDERESTIMATE MAURITANIA
With a goal in extra time, UAE salvaged an important victory over Mauritania this Friday to secure their place in the quarter-finals of the competition.
Khalil Ibrahim striked a cross to the far post to open the scoring in the 92. But earlier in the 69, Ali Saleh's powerful bicycle kick went wide of the goalkeeper and drpooed into the net to open the scoring. However, the VAR reviewed the play and Andrés Monte Cabrera, the referee from Uruguay disallowed the goal for offside.
UAE Starting XI
22 Mohammed Al Shamsi, 9 Bandar Al Ahbabi, 13 Mohamed Omar Al Attas, 3 Walid Abbas, 2 Mohammed Al Menhali, 18 Abdallah Ramadan, 5 Ali Salmin, 19 Tahnoon Alzaabi, 16 Ali Saleh, 11 Caio Canedo, 7 Ali Mabkhout.
Mauritania Starting XI
1 Mbacke Ndiaye, 4 Ablaye Sy, 15 Bakary N'Diaye, 2 Moustapha Diaw, 3 Mohamedhen Beibou, 14 Mohamed Dellahi Yali, 18 Bodda Mouhsine, 10 Adama Ba, 7 Idrissa Thiam, 6 Guessouma Fofana, 9 Hemeya Tanjy.