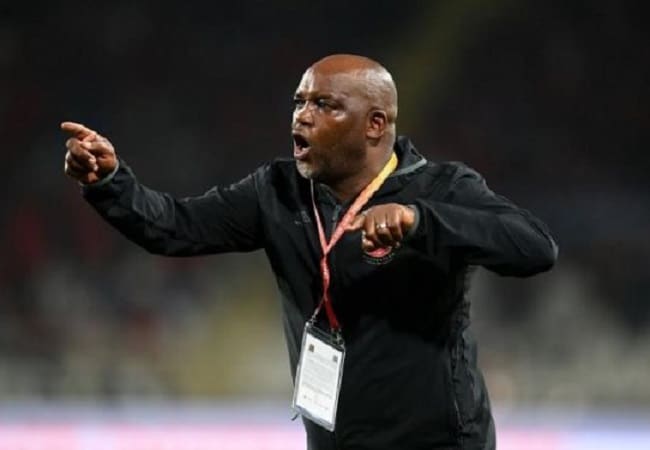 African players were on international duty for countries involved in the Africa Cup of Nations (AFCON) concluded last Sunday with Senegal as winners. This included Egyptian giants Al Ahly's player with Egypt and Senegal contesting the final, three days after the Club World Cup kicked off in the United Arab Emirates.
And Al Ahly head coach Pitso Mosimane has criticised CAF and FIFA over the scheduling of the Club World Cup to overlap with the Africa Cup of Nations.
Mosimane was missing numerous first-team players for Saturday's clash with Monterrey due to their exploits at AFCON 2021. And he suggested that Africa will always take a back seat when it comes to world football matters.
"If Caf and Fifa arrange games on top of each other, it's amazing." The South African tactician said in the post-match press conference after his side's 1-0 win against the CONCACAF Champions League winners.
Also Read : AL AHLY THROUGH TO FIFA CLUB WORLD CUP SEMIS
"It's unbelievable how this happens. It's like nobody knew when the Cup of Nations was, and nobody knew when the Fifa Club World Cup was. But Africa will always be compromised when it comes to this.
"Now we have to play Palmeiras who are rested. We have to play again. Why (do) we have to play Palmeiras in the semi-finals, why don't they also play earlier? What is the criteria?
"Anyway, we're not politicians, we talk about football. But those are the realities. The scale is not proper when it comes to Africa and Europe. That's a fact. We can hide it, or prefer not to talk about it. But it's a fact that's there." Continued Mosimane.
Also Read : AL AHLY FAILED AGAIN TO MAKE IT TO THE CLUB WORLD CUP FINAL
The CAF Champions League winners were knocked out by Palmeiras in the semi-finals on Tuesday following a 2-0 defeat.