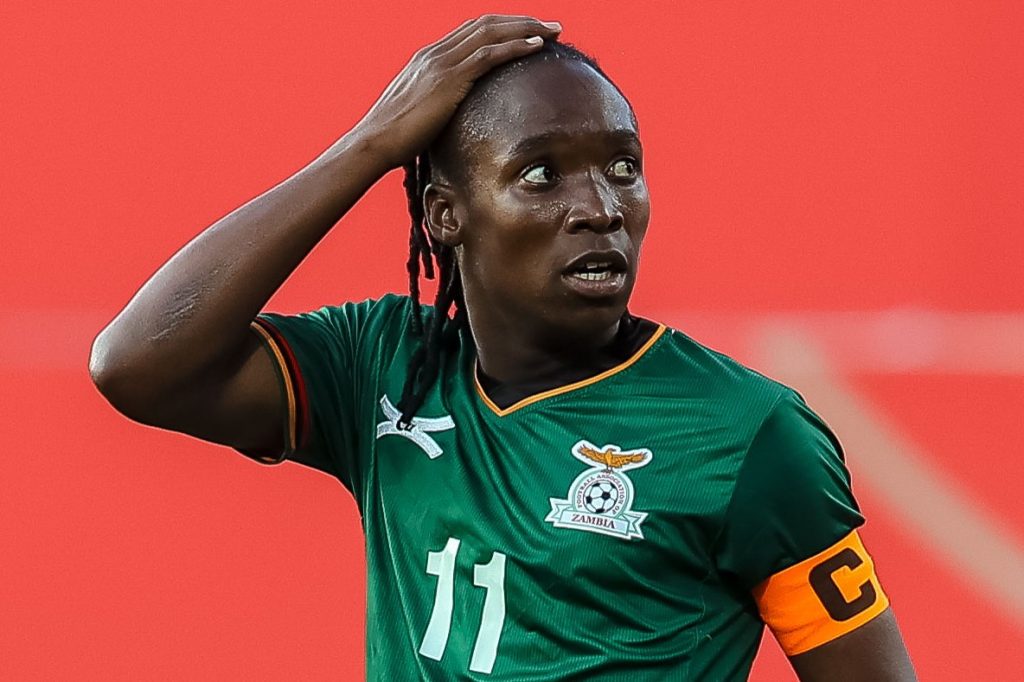 The Zambia Women's National Team departed for Morocco on Monday ahead of two international friendlies against the Atlas Lionesses in Rabat on September 22 and 26 2023.
Coach Bruce Mwape selected a mix of foreign and local players for the friendlies. Both teams recently competed in the 2023 FIFA Women's World Cup, which was held in Australia and New Zealand, with Zambia exiting in the group stage and Morocco reaching the round of 16. Copper Queens captain Babra Banda told the FAZ media before leaving for Rabat that the friendlies are crucial as they prepare for the Olympic qualifiers and the COSAFA Cup.
"The team is ready, and everyone has been up to the task since the day we entered the camp. The friendly game will help us get in shape ahead of the Olympic qualifiers and the Cosafa tournament," said Banda adding: "We have to be focused and determined and remain mentally and physically fit. Looking at Morocco, it's not an easy team. Every time we meet big teams, we always know how the team is shaping up."
Read Also: Zambia goalkeeper Hazel Nali undergoes successful surgery
Banda continued: It's important to meet teams like Morocco, It's not an easy team so at least when we meet such teams we can gauge ourselves, to see how far we are moving. These are games we need to have total concentration and target getting wins."
The two teams last met in 2022 before the start of the Africa Cup of Nations and played to a 1-1 draw. Banda is hoping this time around the Copper Queens can carry the day. The Mwape-coached side will be looking to return to the Olympics having made their debut in 2021 at the delayed 2020 Tokyo Olympics.
Zambia will join the qualifiers in the second round facing Mali next month and Shanghai Shengli forward is aware of the mammoth task ahead. "It won't be an easy game, we have to be focused and fit both mentally and physically. Hoping this time around we don't get a draw but carry maximum points," said Banda, adding: "It will be good for us to qualify for the Olympics because it's a very big tournament, and having played at the World Cup we have gained experience. It won't be easy to qualify but we just have to work together as a team and make sure."
Mwape will use the friendlies to prepare for the 2023 COSAFA Women's Championship that will run from 4 October – 15 October in South Africa. The Copper Queens are in Group B alongside Angola, Mozambique, and Comoros at the regional competition.
FULL SQUAD; GOALKEEPERS; Catherine Musonda (Tomiris-Turan-Kazakhstan), Eunice Sakala (Nkwazi Queens), Leticia Lungu (ZESCO Ndola Girls).
DEFENDERS; Pauline Zulu (Elite Ladies), Martha Tembo (BIIK Kazygurt Shymkent-Kazakhstan), Esther Siamfuko, Lushomo Mweemba, Esther Banda (all Green Buffaloes), Mary Mulenga (Red Arrows), Vast Phiri (ZESCO Ndola Girls), Jackline Nkole (Indeni Roses).
MIDFIELDERS; Hellen Chanda (Hakkarigucu Spur-Turkey), Ireen Lungu (BIIK Kazygurt Shymkent-Kazakhstan), Evarine Susan Katongo (ZISD Women), Mary Wilombe, Susan Banda (both Red Arrows), Avell Chitundu (ZESCO Ndola Girls), Comfort Selemani (Elite Ladies).
STRIKERS; Ochumba Oseke Lubanji (Red Arrows), Hellen Mubanga (Zaragoza CFF-Spain), Rachael Kundananji (Madrid CFF-Spain), Barbra Banda (Shanghai Shengli-China), Natasha Nanyangwe (Green Buffaloes).