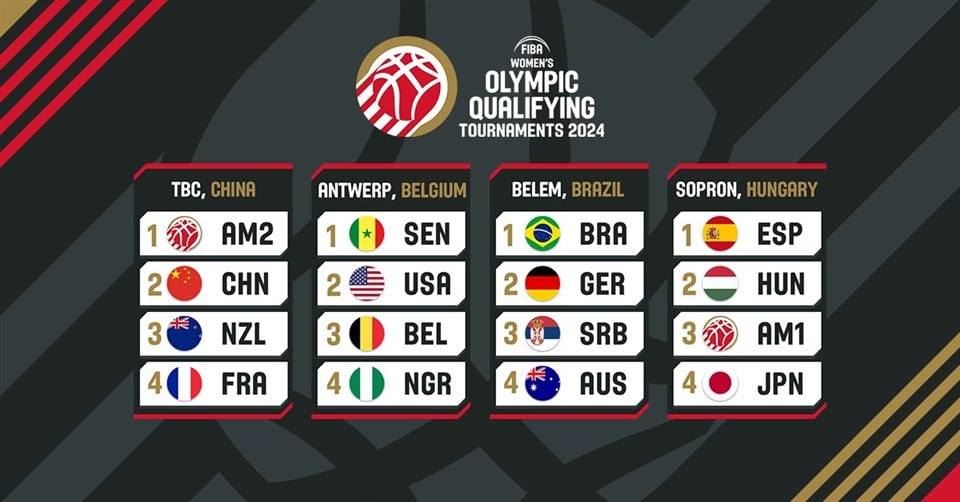 On Thursday, October 5, in Sopron, Hungary, the eagerly awaited FIBA Women's Olympic Qualifying Tournaments 2024 Draw took place.
Nigeria and Senegal, two African representatives, will compete in Antwerp against the United States and the hosts, Belgium.
It implies that the path to Paris 2024 has been established for each nation still vying for one of the 10 Olympic tickets through the qualifying competitions.
Only France and the United States are certain of their spots as the 2022 FIBA Women's Basketball World Cup champions and Olympic hosts, respectively, though both will still compete in the qualifying tournaments.
The game schedule for the 2024 FIBA Women's Olympic Qualifying Tournaments will be revealed later.
The games for The Road to Paris 2024 will take place from February 8 to 11 of the following year in Antwerp, Belgium; Belem, Brazil; Sopron, Hungary; and a location to be confirmed in China.
The two top-placed teams from the FIBA Women's Olympic Pre-Qualifying Tournament in November 2023 will advance, but first Canada, Puerto Rico, Colombia, and Venezuela must compete.
Asterios Zois, a member of the FIBA Central Board, gave the ceremony's introductory remarks. The Draw was performed by both former Hungarian national team captain Lenke Kiss and Serbian star Jelena Brooks.