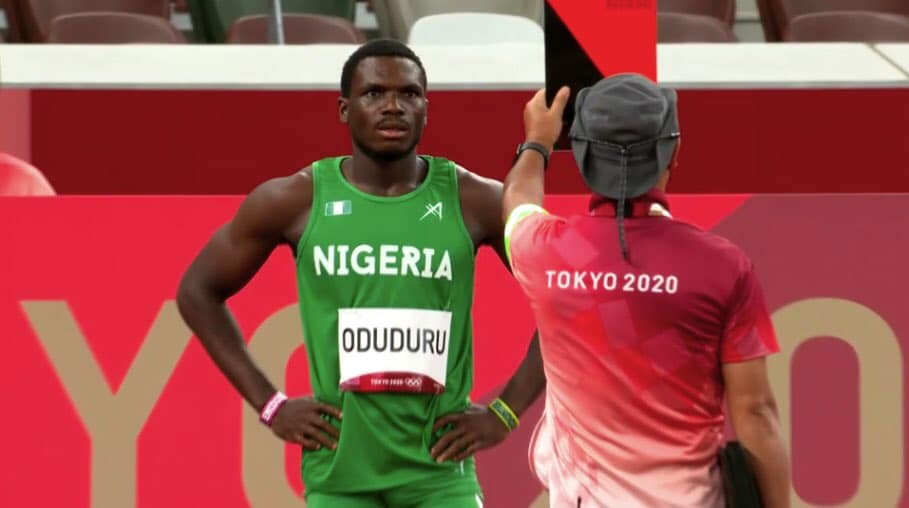 Divine Ododuru, a track and field athlete from Nigeria, was given a six-year suspension on Thursday for a doping offence by the Athletics Integrity Unit (AIU) of World Athletics.
The World Athletics Disciplinary Tribunal, which was created to look into claims of two potential Anti-Doping Rule Violations (ADRVs) by AIU, rendered a decision that resulted in Oduduru's suspension.
The World Athletics Anti-Doping Rules (Rule 2.6) and/or the use or attempted use of numerous Prohibited Substances (Rule 2.2 ADR) were both determined to be violations by Oduduru, who was connected to his fellow countryman Blessing Okagbare, according to the AIU.
Oduduru, in the judgement dated September 18, which was signed by Anna Bordiugova, did not test positive for any banned substance.
He was, however, alleged to have been implicated in a WhatsApp message between Okagbare and her supplier, Eric Lira where his compatriot mentioned "Divine" and "we" while discussing.
"The Athlete has committed ADRVs under Rules 2.6 and 2.2 ADR.
"The violations shall be considered together as one single first violation," the statement read.
"A period of Ineligibility of six (6) years is imposed by the Panel upon the Athlete commencing on the date of the Decision.
The athlete's provisional suspension from February 9, 2023, until the decision date will be deducted from their entire time of ineligibility.
"The Athlete's results from 12 July 2021 until the date that the Provisional Suspension was imposed, on 9 February 2023, shall be disqualified with all resulting consequences including the forfeiture of any titles, awards, medals, points and prize and appearance money."
Also mandated was Oduduru's payment of $3,000 to World Athletics "as contribution towards the legal fees and other expenses incurred in connection with these proceedings."