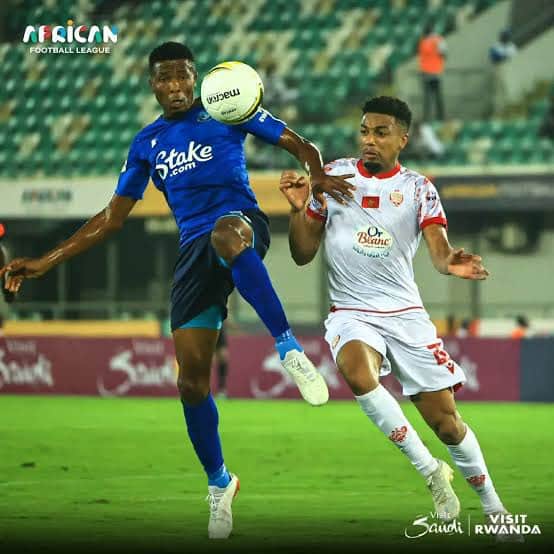 Before their second-leg African Football League quarterfinal match against Wydad in Casablanca, defending champions Enyimba were unable to obtain a landing permit for their chartered aircraft, according to an official of the Royal Moroccan Football Federation, Omar Khyari.
The People's Elephants had accused the Moroccan government of using despicable strategies to sabotage the team in the ongoing African Football League.
Enyimba must overcome a 1-0 deficit against Wydad AC of Morocco by 7 o'clock on Wednesday in the second-leg quarterfinal match in Casablanca, Morocco.
The People's Elephants were still stuck at Murtala Mohammed International Airport in Lagos as of past midnight on Monday when Moroccan officials refused to let the team's chartered plane take off from the airport's international wing and land in Casablanca.
According to Khyari, "For the people who want to know what truly happened and who are seeking the truth, here is what happened: False information has been relayed by certain press articles reporting a so-called "non-issuance" by the Kingdom of Morocco of a landing authorization in the Kingdom for the Charter Aircaircraftthe Nigerian club Enyimba.
"Basically, the Directorate of Air Transportation (DTA) received an initial request for flight authorization from Enyimba FC on Monday, October 23, 2023, at 12:03 p.m.
"After examining this request, the DTA asked for additional information to provide it with the updated AOC and – Charter agreement and information on the GMMN-GMML section of the requested route.
"The additional information was received at "6.40 pm, and the following day at 8.30 am, 8.51 am, and 9.36 am", explains the DTA, which points out that the procedure for granting flight authorizations stipulates that any ad hoc requests must be sent 72 hours before the flight is due to take place.
"The FRMF points out that the DTA issued the required authorization once the file had been completed."