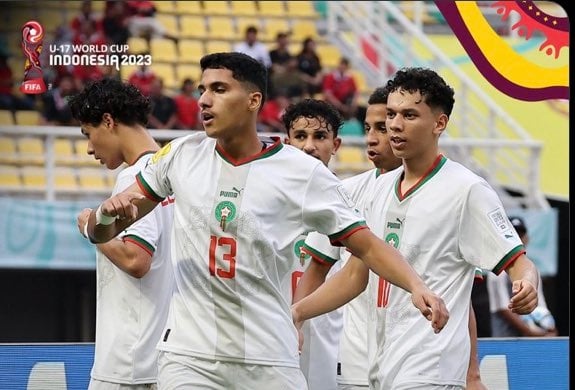 Morocco's FIFA U-17 World Cup campaign got off to a winning start thanks to goals from Saifdine Chlaghmo and Ayman Ennair.
However, in their Group A match, the Atlas Cubs had to fend off a stubborn Panama side in the second half.
In the sixteenth minute, Chlaghmo scored the first goal of the competition, rising to the top at the far post to receive Abdelhamid Maali's deep corner and loop the ball over Manuel Romero, the stranded goalkeeper.
Panama had a quiet first half, but they stormed back into the game forcefully after the interval.
In the 60th minute, Oldemar Castillo had a wonderful chance to tie the score after overcoming two challenges, but he was stopped from curling the ball past Taha Benrhozil.
The best opportunity for Los Canaleros was short lived as Hector Rios broke strongly down the left flank and cut the perfect cut-back to Frederik Krug, but the substitute's first touch after entering the game at the Geloro Bung Tomo Stadium was a side-footed shot from six yards out.
Deep into extra time, Maali again proved to be the creator as his clipped pass into the box found Ennair breaking behind the defence to loft the ball over Romero, making Panama pay for their missed opportunities.
In their subsequent game, Morocco will play Ecuador at the same location on Monday. Later that day, Panama will play the hosts, Indonesia.