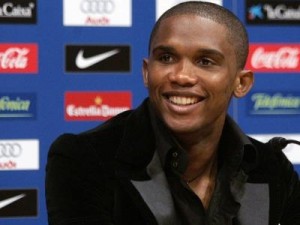 The Cameroonese international, Samuel Eto'o is the most well-payed footballer in the World.
The striker of AnzhiMakhchakala earns 20 million of Euros yearly. This amount is even over both Leonel Messi and Christiano Ronaldo.
Yaya Touré of Ivory Coast is the second African in the top 10.
He is the global fourth.
The player of Manchester City is payed 18,3 million of Euros each season.
His compatriot Didier Drogba is the global sixth. The captain of the Elephants gets 12 million of Euros each season.
Here are the top 10 highest salaries in football :
1-Samuel Eto'o (striker, CAM ANZHI): 20 M€/season
2-Zlatan Ibrahimovic (striker, SUE PSG): 14,5 M€/season
3-Wayne Rooney (striker, ANG MAN Utd): 13,8 M€/ season
4-Yaya Touré (midfielder, CIV MAN City): 13 M€/season
5-Sergio Agüero (striker, ARG Man City): 12,5 M€/season
6-Didier Drogba (striker, CIV Shangai Shenhua): 12 M€/season
7-Fernando Torres (striker, ESP Chelsea): 10,8 M€/season
8-Dario Conca (midfielder, ARG Guangzhou Evergrande) 10,6 M€/season
9-Lionel Messi (striker, ARG Barcelona): 10,5 M€/season
10-Christiano Ronaldo (striker, POR Real Madrid): 10 M€/season