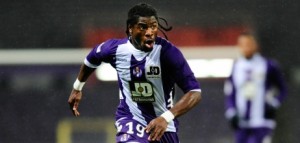 Would Serge Aurier think of the Ivorian national team? After having to integrate the team of the Elephants of Cote d'Ivoire, the right side of Toulouse is the object of interest of the football authorities of his country of birth (Abidjan December 24, 1992).
The Toulouse defender is tipped over to the corridor where Eléphants where Eboue, Boka and Tiéné move towards the end of their careers.
According to Sport Ivoire, emissaries of the Ivorian Football Federation (FIF) and the national coach, Sbabri Lamouchi came into contact with Serge Aurier.But the right rear of TFC, who has dual nationality (France and Côte d'Ivoire), have other priorities "The Ivorian Federation is inconsistent with itself. Serge (Aurier) does not require to be licensed with the selection. He simply wanted to be in the group. But was royally ignored. How can you ignore a player as young and talented? Today Serge's mind is on  something else, "said one close to the player in the columns of Sport Ivoire.
Arrived in Toulouse on April 1, 2012 from RC Lens, Aurier is currently in the hospital for a month.
Read also:
http://en.africatopsports.com/2013/02/21/serge-aurier-cote-divoire-rather-than-france/