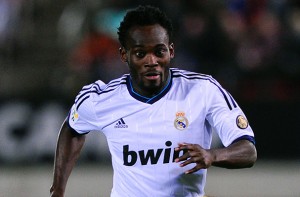 Real Madrid qualified Tuesday for the quarterfinals of the Champions League after its laborious match against Manchester United (2-1). The Merengue have relied on the referee, author of a severe red card on Nani and Cristiano Ronaldo, executioner of his former team.
Ghana's Michael Essien, yet present on the scoresheet, has attended this qualification since the bench. The former Chelsea Blue, second choice of Mourinho certainly did not hide his pleasure at the final whistle.
The same fate for Karim Benzema. The Franco-Algerian striker was sacrificed by José Mourinho. While preparing to enter the game after the English scoring opener, the red card changed everything. The Portuguese coach has preferred to play Luka Modric, with success at the end (he is the author of the equalizer).
Nani saw red!
Shabby evening for Nani. The Portuguese of Cape Verdean origin had started the match well. Twirling on his left side, he caused the Manchester United goal. It is the center that Sergio Ramos deflected into his own net. Later, he was excluded after an involuntary kick in the chest of Arbeloa. The course of the game changes.
Applied very defensively on the left side, Patrice Evra has dashed the tumbling of Di Maria until his replacement by the end of the first part. The native of Dakar will finally be able to do anything on a supersonic one-two between Ozil and Higuain, leading to the second goal in Madrid.
Danny Welbeck has not been as effective as in the first leg. The England striker of Ghanaian origin was given a lot but without success. Short a tough night for the Red Devils.
Read also
http://en.africatopsports.com/2013/03/04/real-madrid-essien-in-the-group-against-manchester-united/