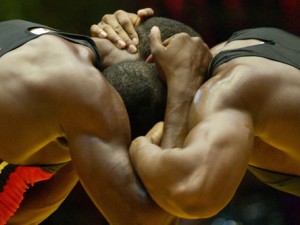 As in all sports practiced throughout the world, the Senegalese fight with strikes is not on the fringe of cheating. The flow of money it brings for several years led some practitioners to include now anything possible to figure prominently.
Even defy all taboos and take all the necessary risks to the health plan.
And from what appears to be evident in this area in Senegal, it is the rapidity with which, Nessle, some practitioners of the wrestle with striking increase their muscle mass.
The latest example is the case of the wrestler, Gouye GUI who faces on April 4 the wrestler, Ness. This fiery of nature appeared in recent weeks, with a shape that does not reflect a single physical good looks.
Gouye Gui has even become unrecognizable. Yoke In, difficulty in breathing, nervousness while speeking … short, this wrestler is no longer the same.
For some two months, "the case Gouye Gui" is debatable. But the wrestler always denies the fact.
"I have not got dopped. My overweight is simply due to fatty foods and varied that I have used with my coaches and my family after intense workouts "
A speech hardly acceptable in the ordinary fans and fans of wrestling with hits in Senegal.
Yet this case Gouye Gui is far from being an exception in the Senegalese arena. In recent years anabolic and other strengthening tablets have emerged among wrestlers.
This is so pronounced that even the National Management Committee (NMC) control, which acts in the Senegal federation at the beginning of the season, last December, has among the new measures that come into force revealed that "now controls can be performed on random wrestlers selected  after a few fights."
But up to now, there has not been any test. At least officially.
Yet the debate swells. This Friday on a TV  for his fight on April 4 against another wrestler Ness and battle for which he pocketed more than 25 million FCFA of stamps, half already cashed, Gui Gouye more than ever again denied. Despite the overwhelming evidence.
"His muscle mass leads to a difficult discussion."
His mentor, a wrestler too? Named Sa Cadior who this Sunday, March 17th faces the wrestler, Papis General that is more than 35 kg of muscles, shows "signs of abnormal overweight."
Their respective coach, former wrestler and captain of the national wrestling team Mor Fadam in the 90s, who was arrested on the case Gouye Gui was bluntly: "the shape of Gui Gouye worries me."
In another case, many famous wrestlers including Lake Guiers II whose track record speaks for itself with nearly 15 fights for a single defeat did not fail to note in a recent interview that "doping is real and that many wrestlers wear to increase their muscle mass in record time. "
And among the most popular products in the wrestling arena we quote the creatine which is sold in a lot of pharmacies in Dakar, but especially the "45 days" is a product takes tablets  45 days to give you a large muscle mass.
An unhealthy situation in the Senegalese sport, but especially in the domain of the fight with strikes, which is increasingly threatened by these "dirts".
The National Management Committee (Cng) of wrestling, health and sports authorities in Senegal were arrested at the highest level.
Between the risk of sudden death, advanced aging or degradation of sports morals, doping haunts slowly the Senegalese wrestling which become today in this country the first sport in terms of popularity and atmosphere.
Oumar Diarra, Africa Top Sports