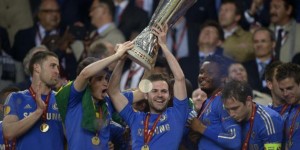 Final of all emotions Wednesday at Amsterdam Arena in the Netherlands between Chelsea and Benfica. As it is often said, to dominate is not to win! Benfica, dominating in the game has seen Chelsea win the trophy by showing realism.
This is the seventh consecutive time that Benfica lost a European final. The club of Ola John, the Dutch of Liberian origin bowed at the end of the five finals of C1: 1963 (AC Milan), 1965 (Inter Milan), 1968 (Manchester United, 1988 (PSV Eindhoven in 1990 (AC Milan) and final UEFA Cup in 1983 against Anderlecht
Benfica.
Only player whose roots are in Africa, since a Dutch of Liberian origin, Ola John has entered in the 66th minute in the place of Melgarejo while the English club led on the score of (1-0). Ola has brought his liveliness and speed to his training and quickly the situation have changed after a penalty converted by Oscar Cardozo in the 68th minute in response to the goal of Fernando Torres (56th).
Winning a trophy is one thing, participating in the coronation is another. The Africans of Chelsea attended the victory of their training from the sidelines. The two Nigerian John Obi and Victor Moses could not make their entrance. The first injured for some time had given way to Frank Lampard. The second who scored four goals in four games in this competition could not take advantage of the absence of Senegalese Demba Ba and Eden Hazard to play his first final of the Europa League. They had the advantage of leaving with the medals.
The Senegalese Demba Ba, not qualified for the competition because of his involvement with Newcastle before his transfer last winter, remained in the tribunes to follow the coronation of his teammates.