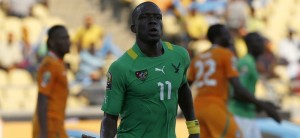 The hawks' group will be expanded on Wednesday with the arrival of Jonathan Ayité and Gakpé serge. If the latter was expected, it is not the same for the first that the coach announced unavailable due to injury. Missing the last two games of the season for a hamstring pain, Jonathan Ayité is doing better and becomes available.
Contacted by us, the Brest striker kicked into touch any possible package. "How can I get injured without my knowledge? I did not get in touch with the coach for a long time so he cannot know whether I'm good or not. I will in Lome on Wednesday, "he told us. He also confirmed the package of his brother Floyd on injury. On the same flight should include Serge Gakpé. The latter has delayed his return to selection because of his vacation and especially to formalize his extension contract with Nantes.
The last player expected is Alaixys Romao who will finally arrive on Thursday according to our information. The Marseille player has received the approval of the FTF (Togolese Football Federation) to participate Wednesday in a match of Charity "Grenoble United" with his former club. He will be alongside figures such as Zinedine Zidane, Brahim Asloum, and Olivier Dacourt among others.
The Hawks, who are preparing to face Cameroon on June 9 in the 2014 World Cup qualifying, are competing today in a friendly match against Equatorial Guinea in Bata. This will be without those three players and Emmanuel Adebayor, Kossi Agassa and Floyd Ayité.