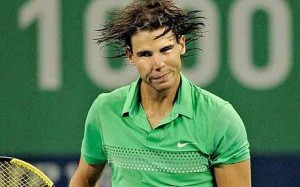 Spaniard Rafael Nadal is conscious of a fact. The World N°1 believes he cannot play for as many extra years as the world of tennis would expect.
The player who won staggering 10 titles this year after having recovered from a knee injury that sidelined him for 7 months is facing Ukrainian Alexandr Dolgopolov tonight.
 "The motivation is always the same; I always try to be able to have the feeling that when you are going to tournament, have the feeling that you can compete well against everybody," Nadal said before the match.
"So you can win and you could lose, but have the feeling that you have enough level to play well against everybody. That's something that happened most of the time – but I will not be able to play for long the way that I play. But I'm here again, I'm 27 years old. I really hope to have the chance to be here for a lot of more years. I feel in my mind Olympics in Brazil is something that I want to enter in good condition," he cautioned.