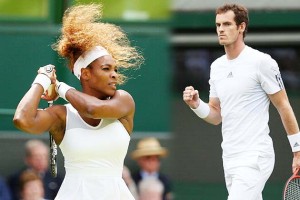 After absolutely annihilating everyone in her path in the women's game over the last year, World No.1 Serena Williams is now looking for a new challenge. The American has decided that she would now like to take on the World No.4 from the men's game – Andy Murray in Las Vegas next year.
What happens when the women's World No.1 takes on the men's World No.4 – at a time in the past we thought we'd never really figure out, but come 2014 we're all set to see such an encounter. After Novak Djokovic's battle of the sexes with Na Li earlier in the year in Beijing, Wimbledon champion Andy Murray is now set to do battle with Serena Williams in Las Vegas next year.
"I doubt I'd win a point but that would be fun," Serena said while sharing a jokey exchange with Murray on Twitter earlier regarding the subject.