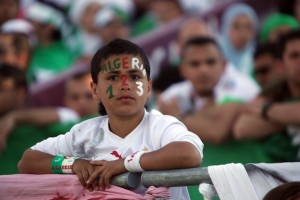 FIFA (International Federation of Football Association) announced Thursday its ranking of March. If Côte d' Ivoire (24th worldwide) remains untouchable at CAF ranking, the Elephants have a new dolphin. It is Algeria, which climbs one place and ends up 25th worldwide.
Cape Verde which was second in February becomes 4th, losing 6 places (33rd) worldwide. Blue Sharks are preceded by Egypt author of a beautiful progression (12 ranks won and African 3rd place). Pharaohs rank 26th in the world. The African Top 5 is completed by Ghana (35th worldwide).
Better progression for the Comoros!
The two other African representatives in Brazil 2014 (Nigeria, Cameroon) are rank 7th and 8th on the continent with a 47th and 50th place worldwide. Super Eagles and the Indomitable Lions are preceded by Tunisia (44th worldwide). Guinea jumped nine rows to rank African 9th and global 53rd just before Mali which closes the African Top 10 with a 56th spot worldwide.
Author of a heroic draw on March 5 against Burkina Faso, Comoros displayed the best growth of the month. 15 rows won for a 48th place in Africa and 183rd in the world.
Check out the African Top 20
1st Côte d'Ivoire
2nd Algeria
3rd Egypt
4th Cape Verde
5th Ghana
6th Tunisia
7th Nigeria
8th Cameroon
9th Guinea
10th Mali
11th Burkina Faso
12th South Africa
13th Senegal
14th Libya
15th Sierra Leone
16th Zambia
17th Morocco
18th Congo
19th Uganda
20th Congo