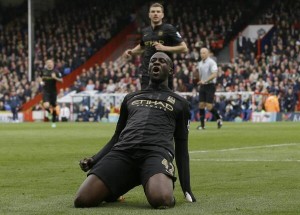 Here is another weekend rich for African internationals. Ivorians have admired the paowerful return of Yaya Toure with Manchester City, while Demba Ba no more misses opportunities to shine with Chelsea. Gervinho scores again and Bakary Kone from Burkina Faso and Lyon feast.
England Day 36
Manchester City was in hard since the injury of its backbone Yaya Touré. The Ivorian has once again made everyone bow for him as he scored a beautiful strike for his comeback against Crystal Palace ( 2-0). 19th goal of the season for the former Monaco.
Surprising victory of Chelsea over Liverpool that boosted the fight for the title in the Premier league. Again aligned by input, Senegalese Demba Ba offered a 1-0 advantage to the Blues at the break. Blues eventually made it an humiliating 2-0 by Willian.
Emmanuel Adebayor has not scored. But he proved once again decisive with Tottenham. It was he who gave the decisive pass for the only goal of the match to Danny Rose, against Stoke City.
Swansea can heave a sigh of relief. The Welsh club is almost certain to play in the Premier League next year after its 4-1 win over Aston Villa. Again a double by Ivorian Wilfried Bony.
Spain Day 35
Elche has not ensured its continuation. But a 1-1 draw against Levante can be used in the final tally. The promoted side can say thank you to the Ghanaian Richmond Boakye, who scored.
Germany Day 32
Hertha Berlin hooked a 2-0 victory on Brunswik. Including a goal of Tunisian Sami Allagui.
Italy Day 35
Gervinho and Roma keep the suspense in Serie A. Always behind Juventus, La Louve continues to win as against AC Milan Friday 2-0. The twirling Ivorian scored a goal.
Torino wants a place in the European Cup. The Turin club is collecting means. 2-0 victory over Udinese with a goal by Moroccan Omar El Kaddouri.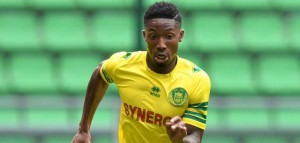 France Day 35
Long injured this season, Karim Ait Fana smiles again on the ground. The Moroccan scored in the 2-1 win of Montpellier over Toulouse.
Serge Gakpé makes a wonderful end of season. 4th goal in the last 3 games last Friday against Marseille with a beautiful shot from the left.
Lyon clings to the race for the Europa League. A 4-1 win over Bastia deprived of Djibril Cisse. Bakari Kone from Burkina Faso scored the 3rd goal of Gones.
Ajaccio is already in Ligue 2 but Junior Tallo confirms that he is a good pick. The Ivorian netted as they suffered a 1-4 defeat to Monaco.
Rennes and Lorient neutralize 1-1. Paul Ntep responded to the goal of Burkinabe Alain Traore.
Salomon Kalou helps Lille to stay in the race for the Champions League. He was scorer during the 2-1 win over Bordeaux Sunday. Cape Verdean Ryan Mendes also scored.