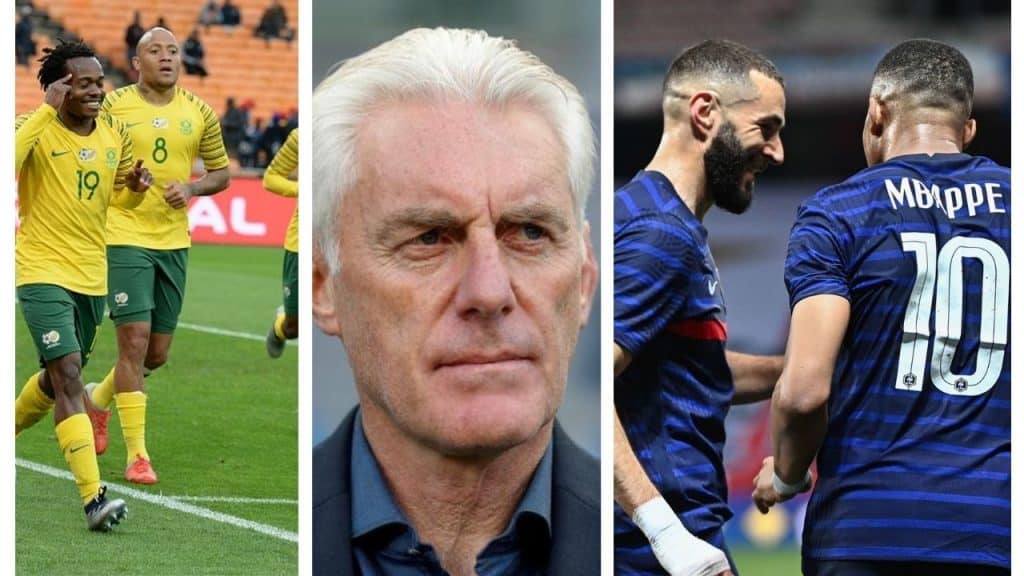 Bafana Bafana head coach Hugo Broos confirmed South Africa will play a friendly game against World Champions France during the next international break in March.
Like West African powerhouse Ivory Coast which will face off with England at Wembley on March 29, South Africa will also face a great European nation.
And France will be Bafana Bafana's first opponent for March break before Zambia's Chipolopolo as confirmed by their head coach Hugo Broos.
This means that Percy Tau, Ronwen Williams and Co. will be facing worldly-known superstars the likes of Kylian Mbappé, Karim Benzema, N'Golo Kanté and Paul Pogba to name but a few.
Read more : AFCON 2021 – Burkina Faso see off battling 10-man Gabon in post-match penalties
"We are playing March against France and I think against Zambia after that," Broos told the Sunday Times.
"Those are the two matches to prepare us for the [2023] Afcon qualifiers in June. You are playing against the world champions. 
"Strong opposition give you proper preparation. Even if you lose the games it is not a train smash."
"You can learn a lot of things and get an indication of where your team is at. Immediately you will see where the weaknesses are," he explained. 
"Such games tell you the distance the team has covered. They give you something more. Maybe that is what we needed and didn't have for the qualifiers of the World Cup. We didn't really play tough matches."
In addition, the dates of these friendlies are yet to be disclosed but South Africans have a good memory of their last encounter against France as Bafana Bafana beat the Blues during World Cup in 2010 in Group A 2-1 in their home soil.