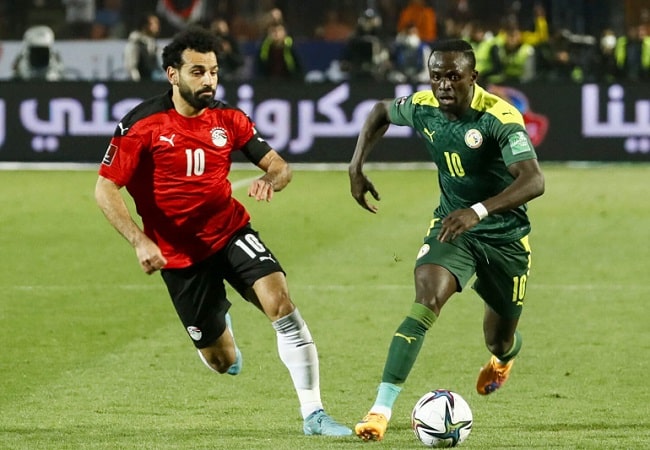 In FIFA's March world rankings released on Thursday, Egypt climbed two places despite losing a place in the 2022 World Cup. Senegal in contrary dropped two places but stayed on top of the African countries list.
The Pharaohs jumped two places from 34th to 32nd place in this month's FIFA global rankings.
They kept their fourth place among African countries, behind African champions Senegal at 20th place overall. Morocco is at 24th and Nigeria at 30th, while Tunisia and Algeria are placed 35th and 44th respectively.
Senegal, who booked their place in the 2022 World Cup that will take place in Qatar from 21 November to 18 December 2022, dropped two places in the FIFA's monthly ranking.
Also Read : JAYJAY OKOCHA INVITED FOR 2022 WORLD CUP DRAW ALONGSIDE OTHER FOOTBALL LEGENDS
Egypt who previously made it into the world's top ten teams after they won three consecutive African Cup of Nations trophies in 2006, 2008, and 2010, placed second among Arab countries, after Morocco.
Brazil changed places with Belgium to sit at the top of the world ranking, ahead of France, Argentina and England respectively.
FIFA's March World Rankings (February world rankings in parenthesis):
1. Brazil (2)
2. Belgium (1)
3. France (3)
4. Argentina (4)
5. England (5)
6. Italy (6)
7. Spain (7)
8. Portugal (8)
9. Mexico (12)
10. Netherlands (10)
Top ten African teams:
20. Senegal (18)
24. Morocco (24)
30. Nigeria (32)
32. Egypt (34)
35. Tunisia (36)
37. Cameroon (38)
44. Algeria (43)
52. Mali (48)
53. Cote d'Ivoire (51)
56. Burkina Faso (56)
60. Ghana (61)
Top five Arab teams:
24. Morocco (24)
32. Egypt (34)
35. Tunisia (36)
44. Algeria (43)
49. Saudi Arabia (53)