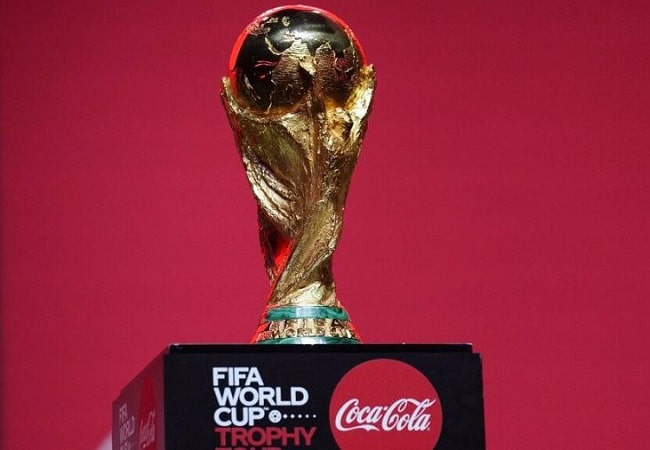 The FIFA World Cup trophy will land in Ghana in the month of September ahead of the 2022 FIFA World Cup tournament in Qatar later this year.
The trophy will be presented in Ghana on September 3rd and 4th with barely two months left before the start of the Mundial which starts in November and ends in December.
Also Read : SAMUEL ETO'O BELIEVES QATAR 2022 IS THE TURN OF AFRICAN TEAMS
The second and final leg of this year's FIFA World Cup Trophy Tour by Coca-Cola kicked off on Thursday in Seoul, which for the first time, is offering all 32 qualified nations the chance to see football's biggest prize up close, will finish in Doha, Qatar just a few days before the greatest show on Earth gets underway.
"The first phase of the FIFA World Cup Trophy Tour by Coca-Cola was a fantastic success, engaging the broader public through the magic of the largest football festival on Earth.
"By, for the first time, visiting all the nations that have qualified for the FIFA World Cup, the momentum of the Trophy Tour will continue to build, giving fans of all ages a taste of the excitement to come. And we hope they will join us in Qatar later this year for the ultimate celebration of the beautiful game." Colin Smith, FIFA's Chief Operating Officer – World Cup, said.
Also Read : FIFA WORLD CUP TROPHY LANDS IN KENYA THIS THURSDAY
Ghana are making their fourth FIFA World Cup appearance after beating their arch rivals the Super Eagles of Nigeria in the playoffs in March 2022.
The Black Stars are in the same group as former European winners Portugal, former World Champions Uruguay and South Korea. The West African country will begin their tournament with an opening game against Portugal.