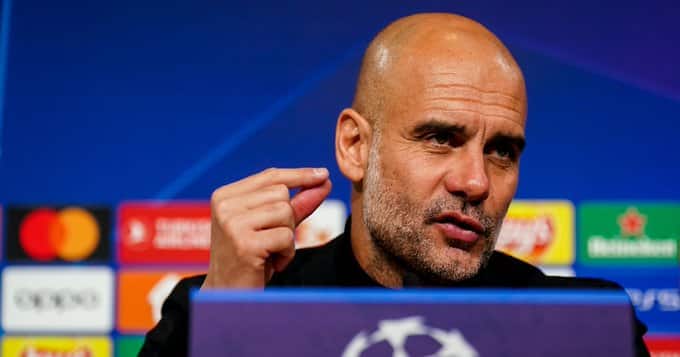 As he gets ready for Manchester City's rematch with Real Madrid in the Champions League semi-final, Pep Guardiola stressed that seeking retribution was not his driving force.
City has a chance to redeem itself this season after being heartbreakingly defeated by the Spanish giants in the last four last year.
Guardiola is concentrating on the game at hand rather than looking back a year ago as the first leg of their most recent matchup takes place at the Bernabeu on Tuesday.
The City manager said: "It was tough but we made an exceptional first game in Manchester and played a really good game here.
"In general it was a good performance but it was not enough.
"You congratulate them and accept it and now one year later we are here.
"We are not here for revenge. It is another opportunity.
" One day we will get it. We will get to the final and win it.
"It didn't happen last season as we played Real Madrid and in this competition they know exactly what they have to do."
Guardiola said that it was difficult to swallow the loss from previous season at the moment.
With a 1-0 win on the night and a 5-3 aggregate advantage going into extra time, City controlled the tie in the second leg and appeared to be headed for the championship game.
Nevertheless, they suddenly folded, giving up twice in a row, and losing in overtime.
It added to the club's list of close calls since Guardiola became manager in 2016, which also includes losing in the 2021 championship game.
Guardiola said: "Seven years ago we wanted to win the Champions League. Last season it was (like) the end of the world but here we are again.
"Being stable is the most important thing. The important thing is we are trying to get better every year.
"We were prepared last year too. We are the same manager, mainly the same players but completely different games.
"The difference is the second leg is at home and everything will be decided in Manchester."
Unlike Guardiola, midfielder Rodri admitted revenge was on his mind.
The Spain midfielder said: "Football gives you the option to have revenge.
"We have the philosophy you can always learn from past experiences. We did a great two games but football is like this and we didn't go through.
"We will fight again. We will try to learn from what we did bad in that moment."
Nathan Ake, a defender for City, is out with a calf injury after getting hurt against Leeds on Saturday. He is a Netherlands international.