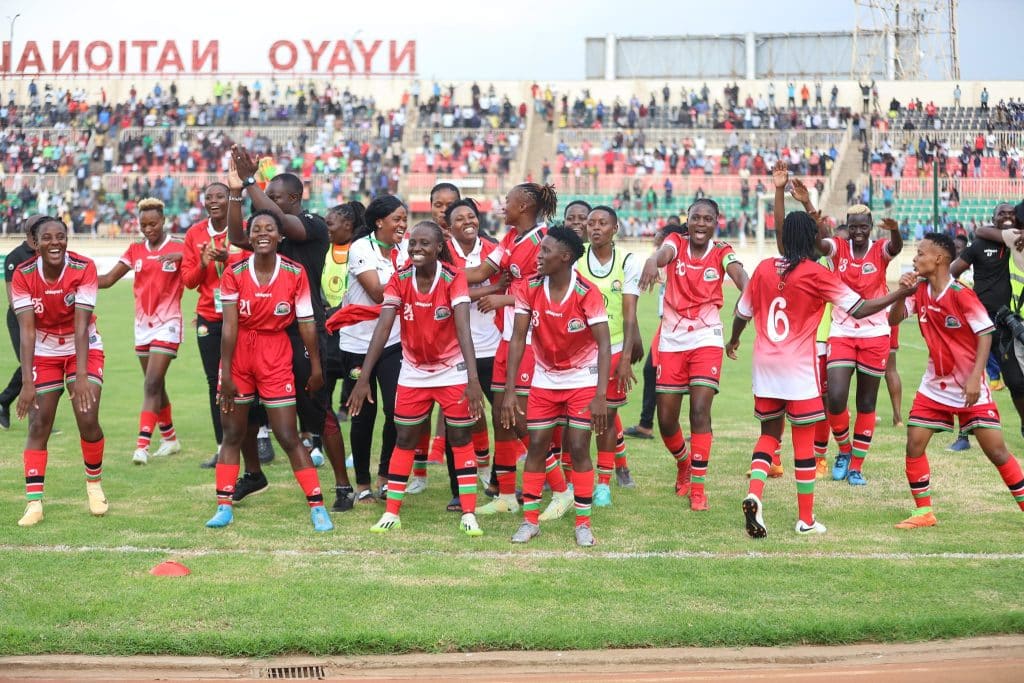 Kenya's Harambee Starlets will play Botswana in the second and final qualification round of the 2024 Africa Women's Cup of Nations (WAFCON) qualifiers after eliminating Cameroon on Tuesday.
Starlets qualified from the first round after defeating the Indomitable Lions 4-3 on penalties following a 1-1 aggregate result in the return leg played at Nyayo Stadium. Meanwhile, Botswana qualified on a 10-1 aggregate scoreline against Gabon. Botswana had won the first leg 4-1 before winning the return leg 6-0 in Gaborone on Tuesday.
Goalkeeper Annedy Kundu was instrumental in saving a crucial penalty before Sheryl Angachi stepped up to score the winning penalty goal to ensure qualification to the second round where they will face Botswana, who defeated Gabon 10-1 on aggregate. Speaking after the game, an emotional Kenya coach Beldine Odemba praised her charges for silencing critics with the victory against the Indomitable Lionesses and promised Kenyans to expect more from the team.
Read Also: Kenya's Harambee Starlets stun Cameroon to reach second round
"I am happy that we won today (Tuesday), we went to Cameroon and I was told there was a lot of criticism, I don't read social media anymore but I am happy my players played according to plan, in Cameroon we lost by a solitary goal we were not intending to lose," said Odemba, adding: "We opened the game and took it to Cameroon and that was our plan and we got a goal, we could have even scored more goals but we thank God that we won even if it was through penalties."
It was Cynthia Shilwatso who came off the bench to score from a free-kick and level the aggregate scoreline at 1-1 aggregate thus taking the game to penalties. Starlets converted their penalties through Violet Nanjala, Shilwatso, Mwanalima Adam, and Sheryl Angachi while captain Ruth Ingosi saw her effort saved by Cameroon goalkeeper Michaely Bihina. Cameroon converted their penalties through Naomi Eto'o, Toko Njoya, and Jule Ajala while Claudine Falonne's effort hit the woodwork and goalkeeper Annedy Kundu saved the effort from Shaline Meuiyo.
Starlets will now face Botswana between November 27 and December 5 and the aggregate winner will qualify for next year's tournament set to be held in Morocco. Kenya will play the first leg at home before travelling away for the return leg in Gaborone.