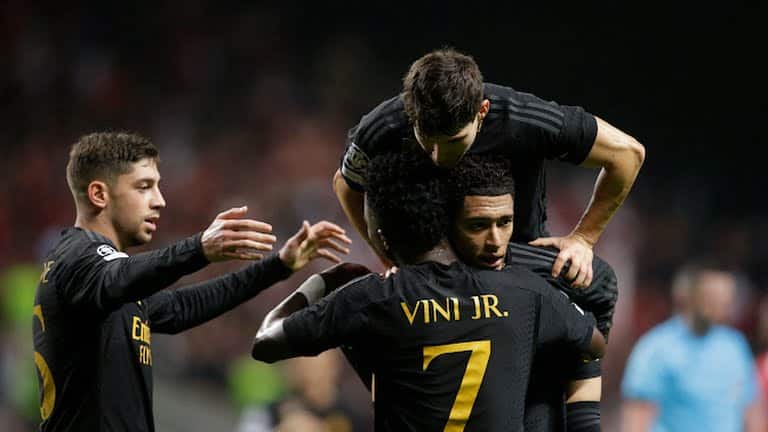 Real Madrid continue their impressive run in the Champions league with a 2-1 away victory over Braga in Portugal tonight with British midfielder Jude Bellingham socring again.
Unbeaten across all competitions for five matches, Braga were determined to put the Spanish Real Madrid in difficulty. That's what happened. Arthur Jorge's protégés played the game in the first ten minutes against the Merengues who were slightly wait-and-see.
However, they will not be able to take advantage of their highlight and Real Madrid as usual will open the scoring against the run of play. On the left side, Vinicius is found in depth by a long ball from Nacho. The Brazilian overtakes Saatci. His strong cross to the near post is taken from the right by Rodrygo Goes (16′, 0-1) who beats Niakaté and pushes the ball into the back of the net, under the bar. 1-0 at the break for Carlo Ancelotti's men. Rodrygo thus puts an end to his goal drought for two months.
Read more : Braga vs Real Madrid line-ups – UEFA Champions league
Returning from the locker room, Real Madrid will take the break a little over ten minutes after the restart. Rodrygo finds Vinicius at the far post. The Brazilian delays and serves Bellingham back at the entrance to the area.
The English attacking midfielder (61′, 0-2) adjusts Matheus with a right curl which lands in the side net. Real Madrid's top scorer scores his 11th goal of the season in all competitions. Unfortunately the Merengue's joy will be short-lived because the locals will reduce the score immediately thanks to Alvaro Djalo (63′, 1-2). The outcome of the match will no longer change. Real achieves three out of three with this new victory (9 points). This is the first victory for the Spaniards against the Portuguese club and it is the first confrontation in history between the two clubs.