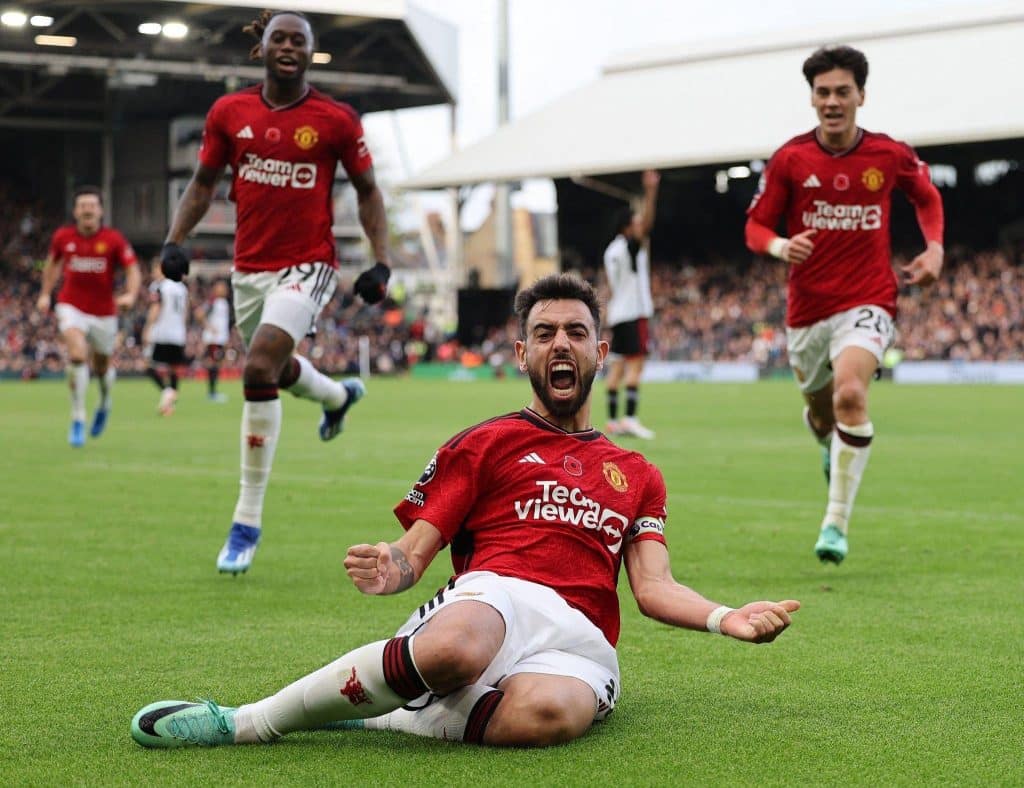 Erik ten Hag, the manager of Manchester United, showered his captain Bruno Fernandes with accolades after the Portuguese playmaker's last-minute goal on Saturday gave the team a crucial 1-0 Premier League victory.
With United having its worst start to a season since 1962, Fernandes had come under fire for his petty performances. His main detractors, former players Gary Neville and Roy Keane, suggested he lacked leadership characteristics.
But Fernandes displayed incredible control to steal the points with a laser-like shot inside the post as a 0-0 draw that would have done little to relieve Ten Hag's siege.
"So often from the moment I made him captain he did this," Ten Hag told reporters.
"He's always making the example the way he presses, the counter pressing.
"He takes responsibility all the time and besides his important goals he's always wanting the ball and trying to create."
Although the points were appreciated following consecutive 3-0 home losses by Manchester City and Newcastle United in all competitions, United's performance was scarcely remarkable; they were lucky not to fall behind as Fulham put pressure on them in the second half.
However, the triumph at least means they'll be more confident when they play in the Champions League in Copenhagen the following week.
"It was a good win and a solid performance," Ten Hag said.
"I'm pleased with it and the team sprit and the way we pressed.
"Fulham play decent football from the back but we didn't allow that and we won a lot of second balls."
Harry Maguire, the centre defender for England who Ten Hag benched for Fernandes last season, was a pillar of strength at the centre of United's defence; the manager of the team called his performance "massive".
Maguire, who twice required medical attention during the game but persisted, was also commended by Fernandes.
"He was good, he was important for us today with the long balls.
"But we also need to give credit to Jonny (Evans) as well and Rafael (Varane) when he came on, he was ready to fight.
"Everyone has been important, I don't want to focus too much on one player but everyone has been too critical of Harry and he's doing really well now. I hope he can stay at this level."
Ten Hag stated that United now needed to capitalise on their victory on Saturday.
"We were not happy with our standards but today we improved.
"We have to bring that every game," he said.
"We have to bring that level and the right attitude and mentality, passion and desire. When we do that we have a good recipe."