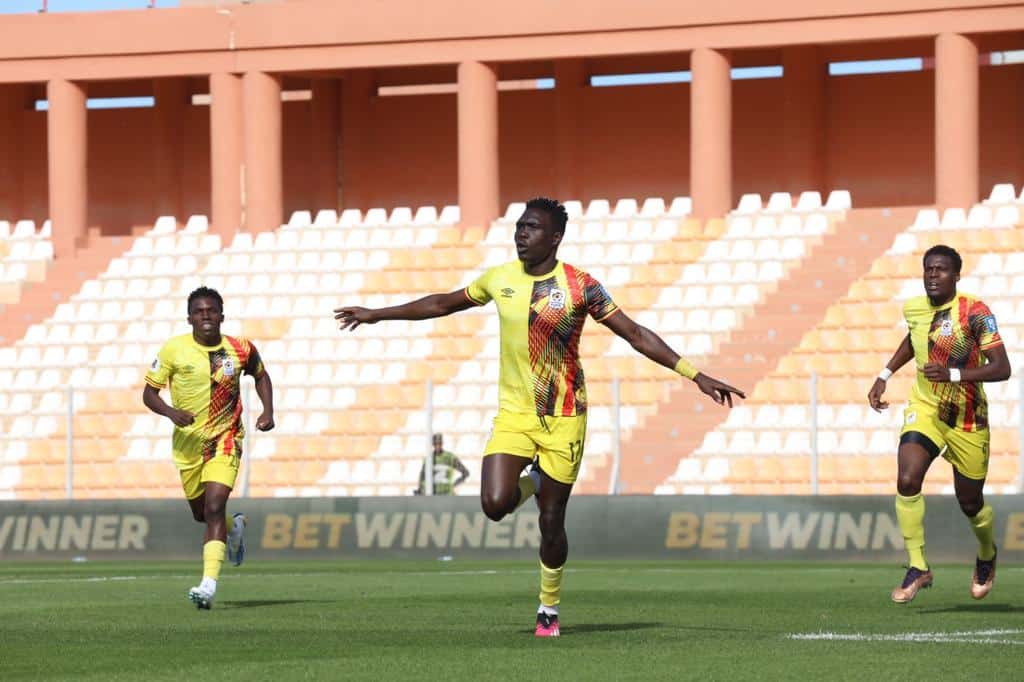 Uganda laboured to a 1-0 victory against Somalia in their second match of the 2025 FIFA World Cup qualifers at Berkane Municipal Stadium in Morocco on Tuesday.
Having lost their opening fixture 2-1 against Guinea, the Cranes went into the game looking for a win to put their campaign back on track and it took them one minute to take the lead courtesy of Rogers Mato Kassim. A cross from Allan Oyirwoth found Kassim with a lot of space inside Somalia's dangerzone, and he drilled home for the opener.
In the 18th minute, Somalia's Abdirizak Mohamed was booked for a challenge on Oyirwoth, and five minutes later it was Uganda who had a clear chance to double their lead when Fahad Bayo laid a neat pass to Travis Mutyaba, however, the latter took time to unleash his shot and the ball was cleared for a fruitless corner by Ismail Isse.
Read Also: FIFAWCQ: Somalia vs Uganda confirmed starting line-ups
Uganda's Kenneth Semakula and Aziz Kayondo were then booked by the referee and at the stroke of half-time, Bayo got a great chance to score his second goal in the qualifiers after racing to meet a counter-attacking ball from Mutyaba, but his effort could not trouble Somalia goalkeeper Mustaf Yuusuf.
Somalia were then reduced to 10 men a minute to the half-time break after Abdirizak was shown his second yellow card for another foul. The Cranes then went into the half-time break leading 1-0 but coach Paul Put could have wanted more from his team having dominated the fixture.
Despite Uganda enjoying the numerical advantage, Somalia resorted to defending and their tactics proved difficult for the Cranes to break them down. At the end of the final, Uganda will be satisfied with the win that revived their hopes of qualifying for the World Cup.
Despite Uganda's victory, Algeria are topping the group with six points, Botswana second on three, same as third-placed Guinea, the Cranes are fourth on three, Mozambique fifth on three while Somalia are last without a point.
Uganda starting XI: Ismail Watenga, Kenneth Semakula, Bevis Mugabi, Halid Lwaliwa, Aziz Kayondo, Allan Oyirwoth, Khalid Aucho, Elvis Bwomono, Travis Mutyaba, Fahad Bayo, Rogers Mato Kassim.
Subs: Salim Jamal Magoola, Jack Komakech, Ibrahim Juma, Timothy Awany, Umar Lutalo, Richard Basangwa, Byaruhanga Bobosi, Bright Akukani, Junior Yunus Sentamu, Milton Karisa, Denis Omedi.
Somalia starting XI: Mustaf Yuusuf, Abdirizak Mohamed, Saadiq Faisal Elmi, Ismail Isse, Isse Ibrahim, Omar Jama, Ahmed Abdullahi Abdi, Ibrahim Ilyas, Yusuf Ahmed, Sakariya Hassan, Issa Adim Abatari.
Subs: Ahmed Mayow Shariff, Ibrahim Ahmed Hussein, Abdiwali Walic, Ahmed Isse, Ayman Mohamed Hussein, Abdulkadir Sidow, Siad Haji, Mahad Mohamed Abdulkadir, Hussein Mohamed, Suleyman Abdi, Adan Anes, Farhan Mohamed Ahmed.