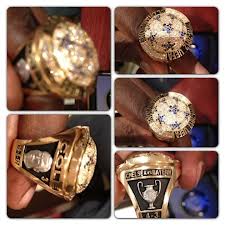 Didier Drogba tonight went to the extraordinary length of presenting his Chelsea team-mates from last season's Champions League final victory with individual rings to commemorate the triumph  at what is thought to be a cost of around £800,000 to the player.
Drogba hosted a dinner for the players as well as staff who won the trophy  although the recently sacked manager Roberto Di Matteo was unable to attend, and presented them with the rings as a surprise. The timing of the dinner came just 24 hours after the last games in this year's Champions League group stage, beyond which Chelsea failed to progress in the competition for the first time.
Fernando Torres was one of a group of players who played last season not present at the event at Wyndham Grand Chelsea Harbour, a hotel in London, including Petr Cech and Juan Mata. The team have another game tomorrow against Sunderland, and travel today.
"I wanted to give something to the team so we can all look back and remember that achievement," said Drogba, before singling out John Terry, in attendance, for special praise. "You're my hero and everyone at Chelsea loves you," he added.
Drogba has returned to London after the end of the Chinese Super League and is expected to train with Chelsea over the winter to keep in shape for the African Nations Cup in next month, when he will captain Ivory Coast.
The referees trade union, Prospect, tonight revealed its dismay at the "leniency" of a three-game ban handed to John Obi Mikel for threats towards referee Mark Clattenburg after Chelsea's game against Manchester United on 28 October.
Mikel was given a three-match ban and a £60,000 fine by an independent regulatory commission. The chairman of the commission, Christopher Quinlan QC, said the ban would have been "significantly longer" had the player not been under the mistaken impression that Clattenburg had racially abused him.
The ban would have been double the length had that not been the case.
Mikel will be able to play in the Club World Cup in Japan next week but will not feature in domestic action until Boxing Day.